I came away from our Labor Day trip to the Greenville/Travelers Rest, SC area feeling like we'd really mastered the weekend trip. And a big part of that was choosing an awesome and perfectly situated campground.
We'd had the Travelers Rest/N Greenville KOA on our list of campgrounds to try since before we even got the travel trailer, and we finally made it there last month. It has excellent reviews, so we went in expecting good things, and we weren't disappointed. At one point I said to Dave that I thought the campground owners here were the friendliest and most helpful we'd ever encountered (and we've had pretty good luck with campground owners/hosts, so that's saying something). It's a small campground tucked back in the woods along a creek, with nice landscaping, limited but nicely kept amenities, and a really convenient location for exploring the area.
Reservations and Arrival: We didn't make it to the campground until maybe 7:30 on Friday evening. I was a little worried because we had a back in site and it was getting close to dark, and I figured the office would be closed and we'd have to deal with finding the site and backing in ourselves. But I didn't need to worry; they were still there and they took us to our site and helped Dave back in. We weren't the last ones there, either, and we noticed that they stayed until everyone arrived and was settled in their site.
The campground was completely full for Labor Day weekend, and we had booked several months in advance….I just did a search on their site for a weekend coming up in early November (so about three weeks away), and it looks like there are spaces available, but not many of them. It's a small campground, so I'd definitely book early, particularly on weekends. We paid $50/night before our VKR discount…part of that is charges for extra kids. The price range for RV sites looks to be around $40-60.
Campsites and Campground overall: I believe we had site 32 or 33….30-something at any rate. We had a full hook up back in near the back of the camground. It was a very nicely sized site, with a fire ring and a picnic table, that backed up to the creek: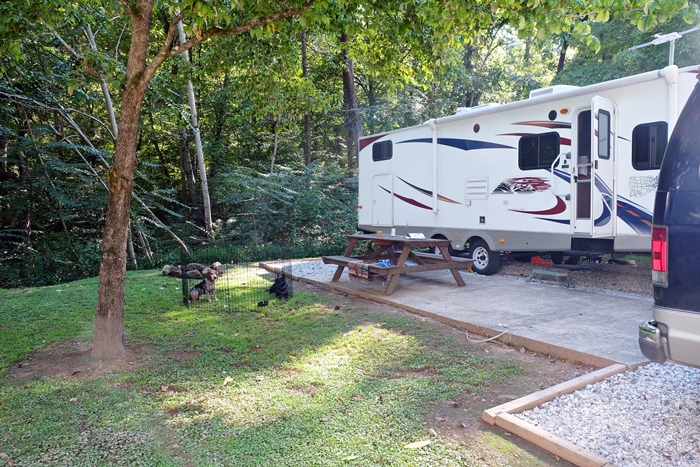 As you can see, there's a gravel pad for the trailer, but a concrete patio, which was a nice touch. Fire rings and picnic tables at every site: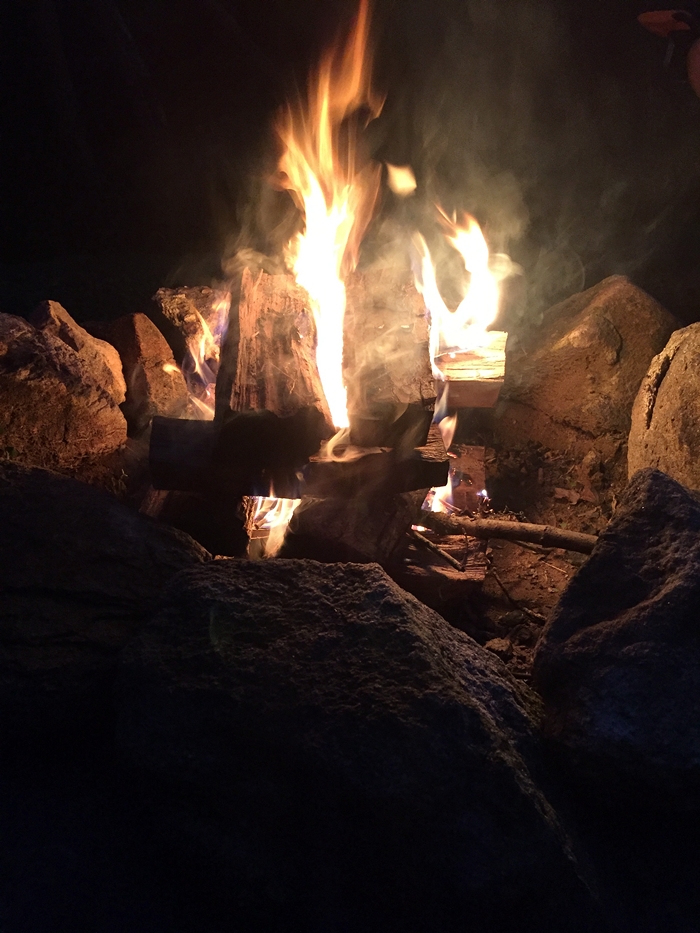 Most of the sites are along the creek, but there are very steep banks and thick foliage, so it's not like the kids can get in there and play. Most of the sites looked quite nice, with the exception of a few near the very front of the campground that seemed pretty cramped. Nearer to the front, you'll be closer to the camp store, but nearer to the back you'll be closer to the playground and pool. We were right across from the only two pull throughs in the campground: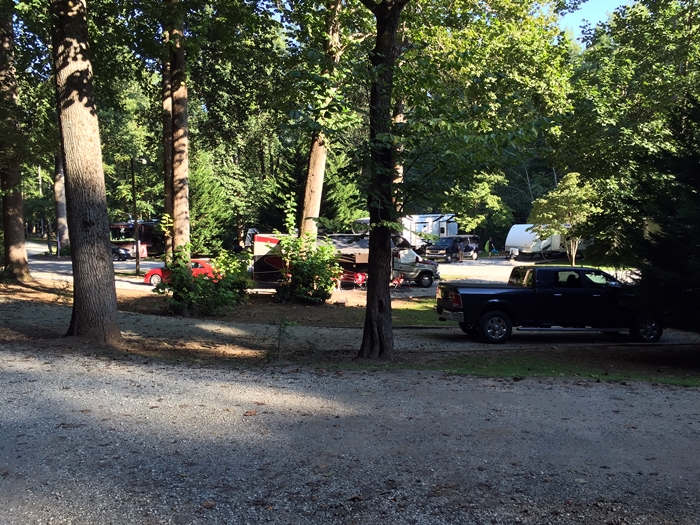 My pictures are terrible, but that's my attempt to show you the pull throughs. These were probably the two biggest sites in the campground, and they had a great location, right near the pool and bathhouse and just down from the playground. I told Dave we should try to get one of these sites next time, but he shrugged and said having a pull through doesn't matter to him if it's a campground where they help you back in.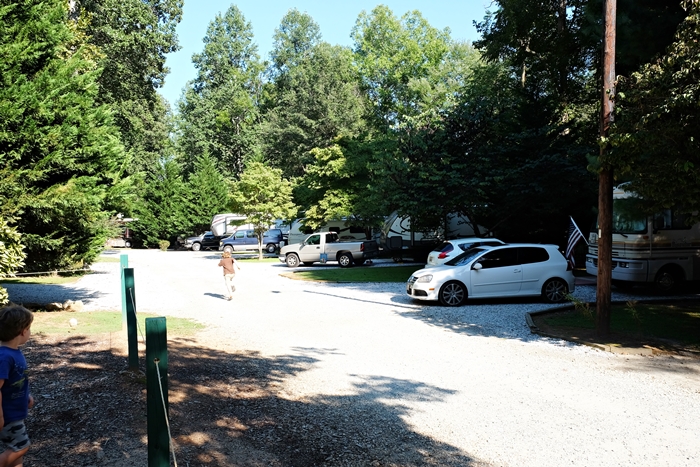 The bathhouses were clean and well maintained. One note if you're interested in tent camping; the tent camping section was off by itself, past all the RV sites and, as far as I can tell, it doesn't have its own bathhouse….which means it's a serious trek, much of it up a steep hill, to the bathhouse from the tent area.
Amenities and activities: There are only about forty RV sites here, so it's not one of those KOAs that's packed with scheduled activities. But there is a nice pool: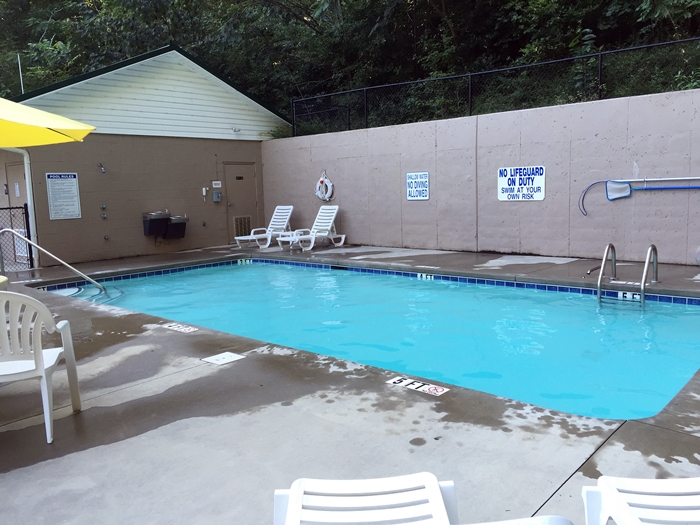 A giant checkerboard: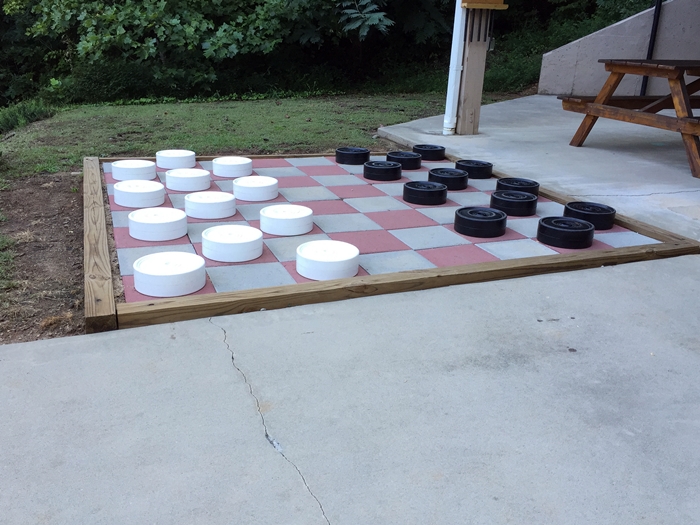 And a small playground: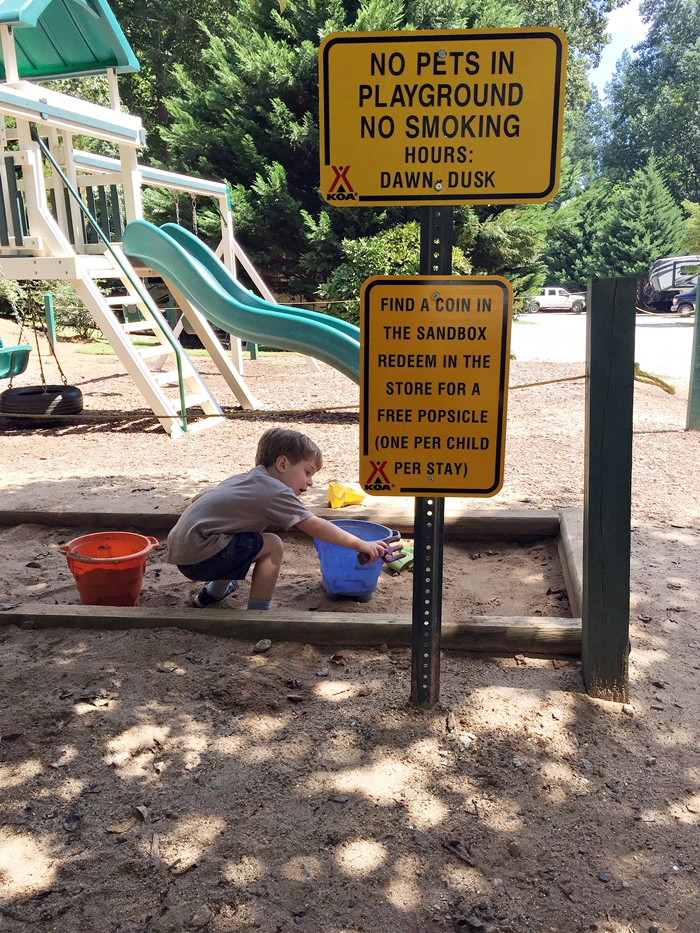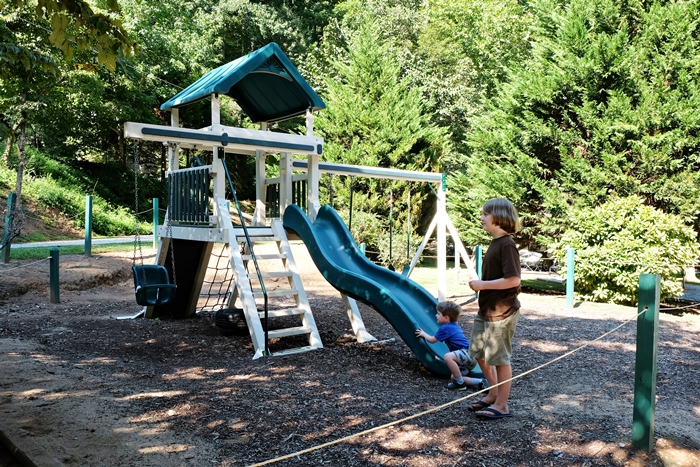 Gus and Abe had a lot of fun looking for coins in the sandbox. They only managed to find one, but they gave them each a free popsicle anyway, explaining that there was a Labor Day special going on, wink wink.
They gave us a sheet of paper with scheduled activities on it when we arrived; there were a couple of different things each day, but we didn't get a chance to try any of them.
Local Area: The Travelers Rest KOA is about 25 minutes north of downtown Greenville, which was our main reason for choosing it. But we were surprised by how much else there was to do in the area, too. I'll talk more about what we did on our non-Greenville day next day, but we had four state parks to choose from less than 30 minutes from the campground, and we also went over the state line into North Carolina to see the Carl Sandburg Home NPS site, and that was less than a 30 minute drive as well.
Travelers Rest itself is a small but charming little town. There's a bike path, the Swamp Rabbit Trail, that runs from Travelers Rest to Greenville, and a lot of the businesses downtown seem focused on capitalizing on this traffic. We went downtown to eat Sunday evening. We had planned to go to The Whistle Stop at the American Cafe, thinking Abe would like the train theming and that we all would like the caboose out back selling ice cream. But it turned out to be closed Sunday evenings. In fact, nearly everywhere except fast food places turned out to be closed Sunday evenings. We finally ended up at Shortfields, aka the only place that was open: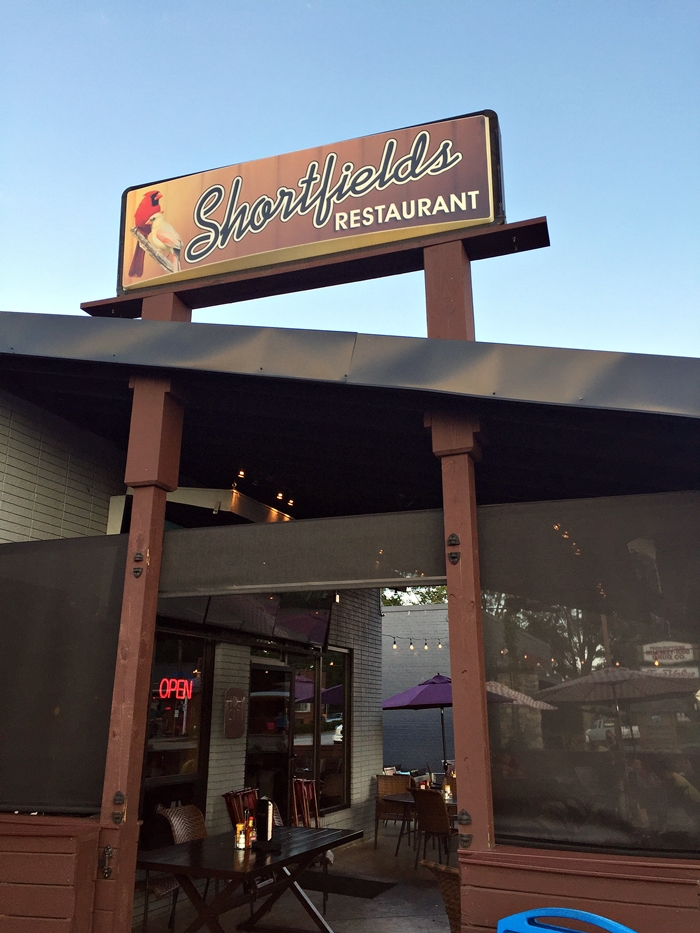 But this was fine; everybody enjoyed their meals, including the unusual fruit nacho appetizer. As a bonus, Shortfields is right next door to the Swamp Rabbit Brewery. It was about to close, so Dave ran next door to pick up a growler for us while we were waiting on our food: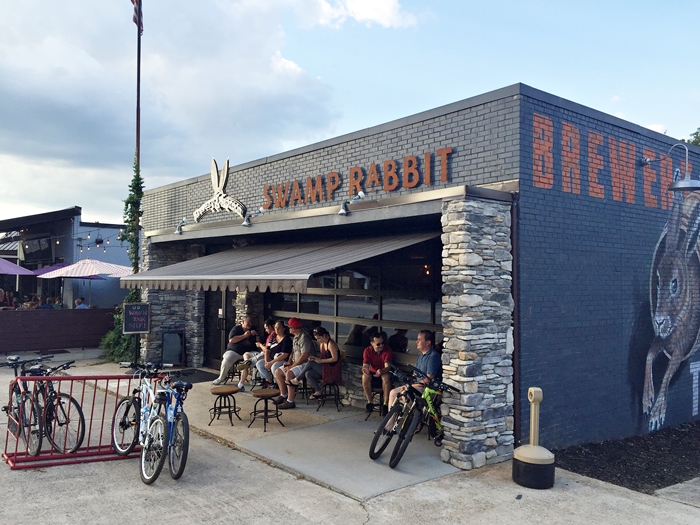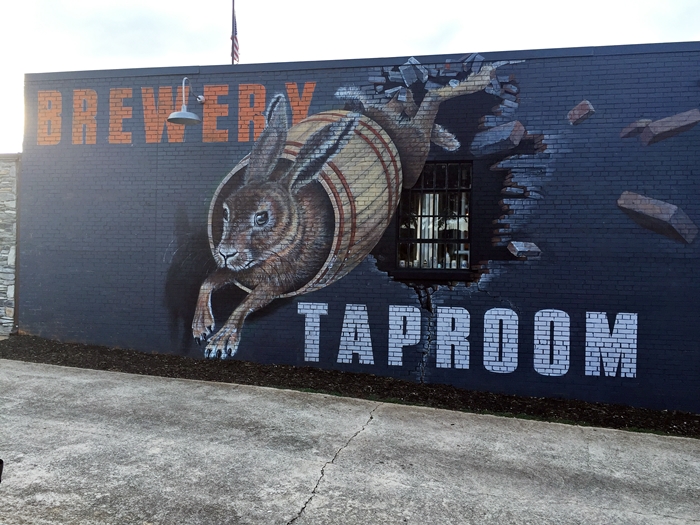 Maybe you would like to pin this?