Travel dates: June 13-14, 2016

My grandfather grew up in Saugerties. When I told my mom we were going to be stopping there, she said I should go by and see the house he lived in. But she didn't know the address, so it would have required some research and/or calls to extended family, and I thought, "I've never even been to that house; I don't really need to see it."
But driving around in Saugerties, I kind of wished I'd taken the time to get the address so we could have made the stop.
I have an ongoing fascination with upstate New York. My mom grew up there (in Clinton, just outside of Utica), and we visited a few times when I was very young, before my great-grandfather passed away and my great-grandmother moved down south to stay with my grandparents. I remember before the trip we took when I was five, my mother told me all about the playroom in my great-grandparents house that she had played in when she was young, and in my head I pictured an enormous room full of slides and playhouses and everything fun imaginable. It turned out to be a small area off the upstairs hallway with a few older toys. And she would tell us stories about wonders of small town living like being able to walk to the candy store down the street. As rural dwellers, my brother and I couldn't imagine anything more exciting.
Even now, if anyone wanted to talk me into moving to some quaint little town in upstate New York, they probably wouldn't have too much trouble. Affordable property! Lots of space to roam but still only a few hours from NYC, Boston, Philadelphia, Montreal, and all of New England and the rest of NY! I could have goats! But my husband hates the cold, so there's little chance that anyone WILL try to talk me into such a move.
But this upstate New York fascination is part of why we decided to swing wide and go home that way instead of taking the most direct route southwest after Boston. Well, that and not wanting to deal with NYC traffic again.
It was surprisingly hard to find promising campgrounds along our route. We settled on the Saugerties/Woodstock KOA, in between Saugerties and Woodstock. This is a Journey KOA under the new branding system (there are Journeys, Holidays, and Resorts. "KOA Journey campgrounds are the perfect oases after a long day on the road. Located near the highways and byways of North America with long pull-through sites, they deliver convenience to the traveling camper.") and it was a really nice overnight stop. The very friendly owner escorted us to our pull-through site. The sites weren't huge, but the campground wasn't very full mid-week, so we didn't have any neighbors. It looks like I took exactly one photo: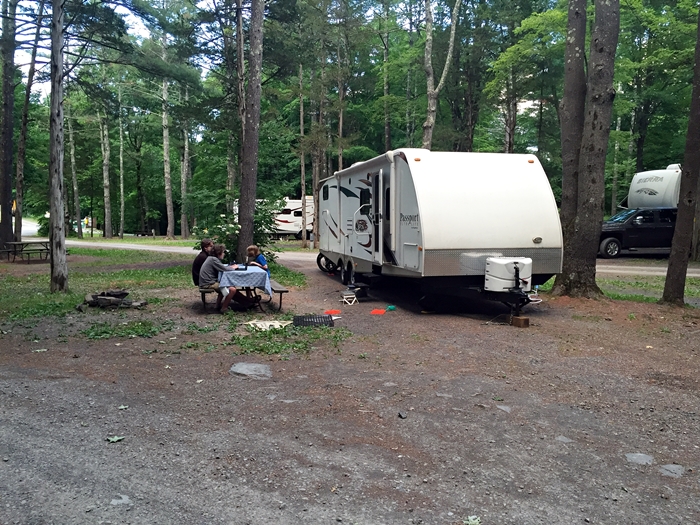 So nice wooded sites, fire ring and picnic table. I believe we had a W/E site. I noticed a couple of really nice, super private pull throughs in the full hookup section. Not a lot of bells and whistles at the campground, but there was miniature golf, a pool, a playground with a bounce house and wooden castle (Abe was a big fan), and a really nice and long nature trail. Most KOAs that we've been to have nature trails, but we've found that they're often overgrown and poorly maintained. This one was lovely, and wound through the woods and past old stone walls. Great for the dogs. Rates are in the $50-60 range.
We pretty much had a single afternoon/evening to spend in Saugerties. Once we got things set up at the campground, we headed into town to see Saugerties Lighthouse. The lighthouse was built in 1869, but when I mentioned it to my mom, she had no memory of ever having seen it during her childhood visits to Saugerties. That's probably because the building was closed up in 1954, the year after she was born, when the Coast Guard automated the light, and it stayed closed, falling into disrepair, until it was restored during the 80's and finally reopened to the public in 1990.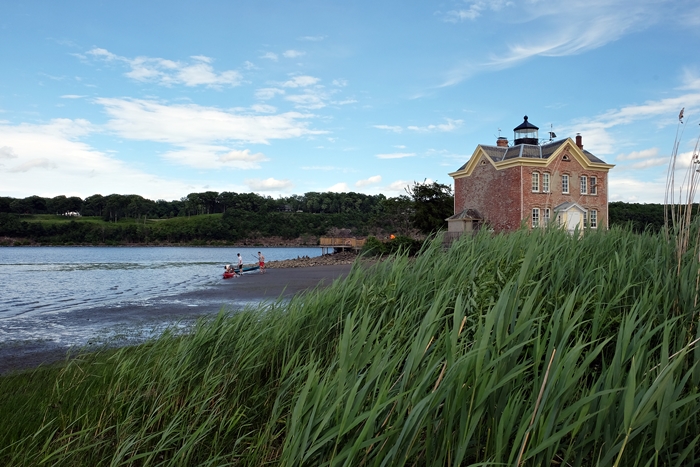 Today it operates as a small bed and breakfast. Public tours are offered every Sunday afternoon during the summer and by appointment at other times; otherwise the interior is only for use by B&B guests. My usual zealous overplanning failed me on this occasion, and I didn't think to try to call and set up an appointment for a tour until we were already in Saugerties. No one answered the phone when we called, so we had to settle for checking out the lighthouse from the outside instead.
You reach the lighthouse via a half mile trail through marshland, some of which is underwater during high tide, so that you have to consult a tide chart before heading out.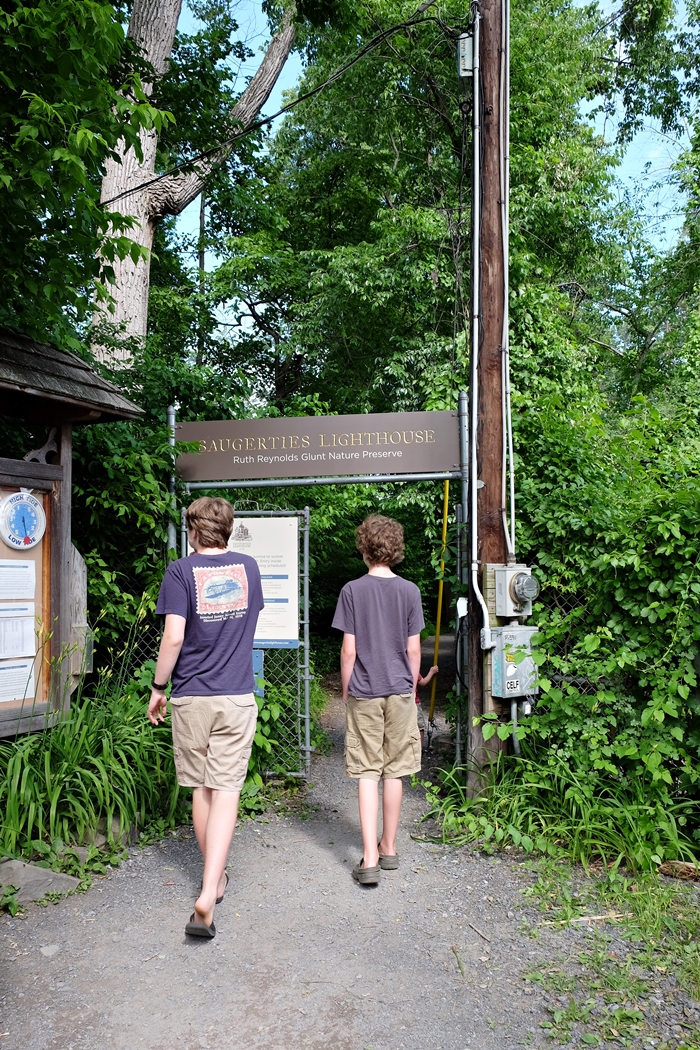 The trail itself is lovely, with some great views of the Hudson River and tall marsh grass: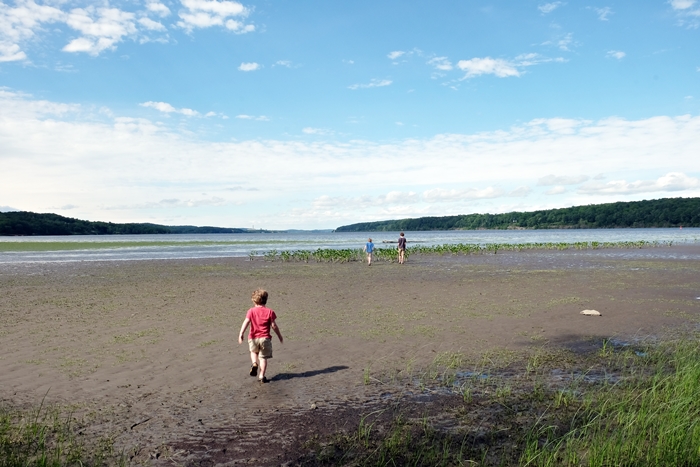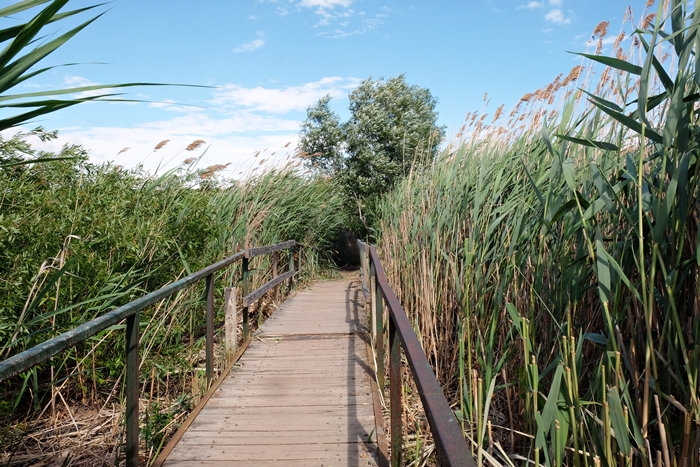 There's not a lot to do at the lighthouse itself if you aren't doing a tour, but there is a small deck on the back where you can hang out or have a picnic.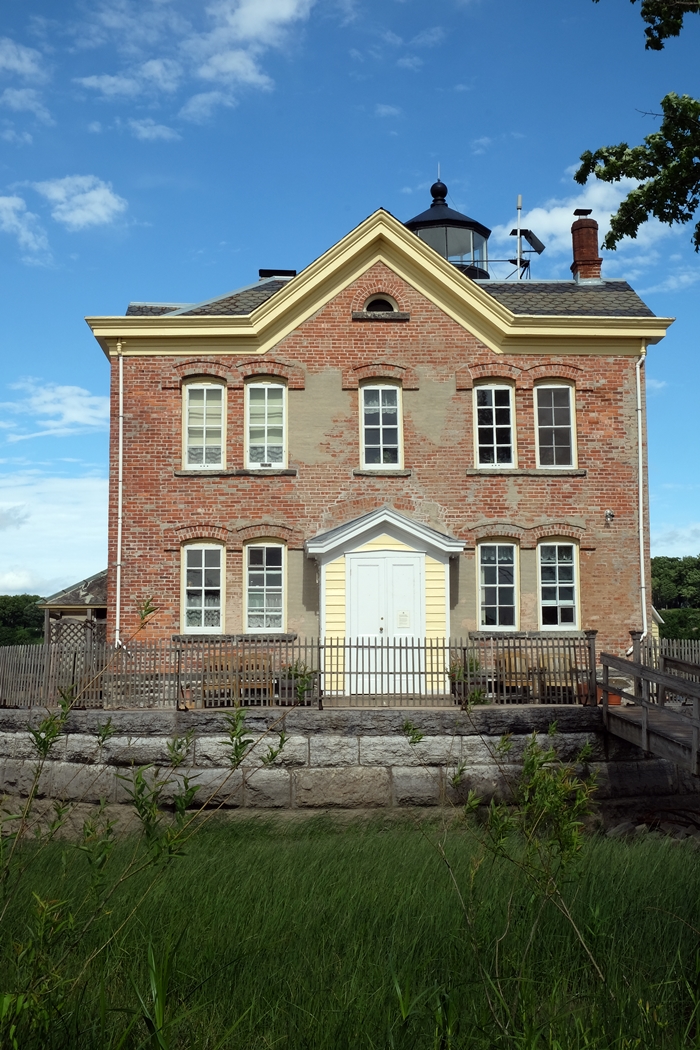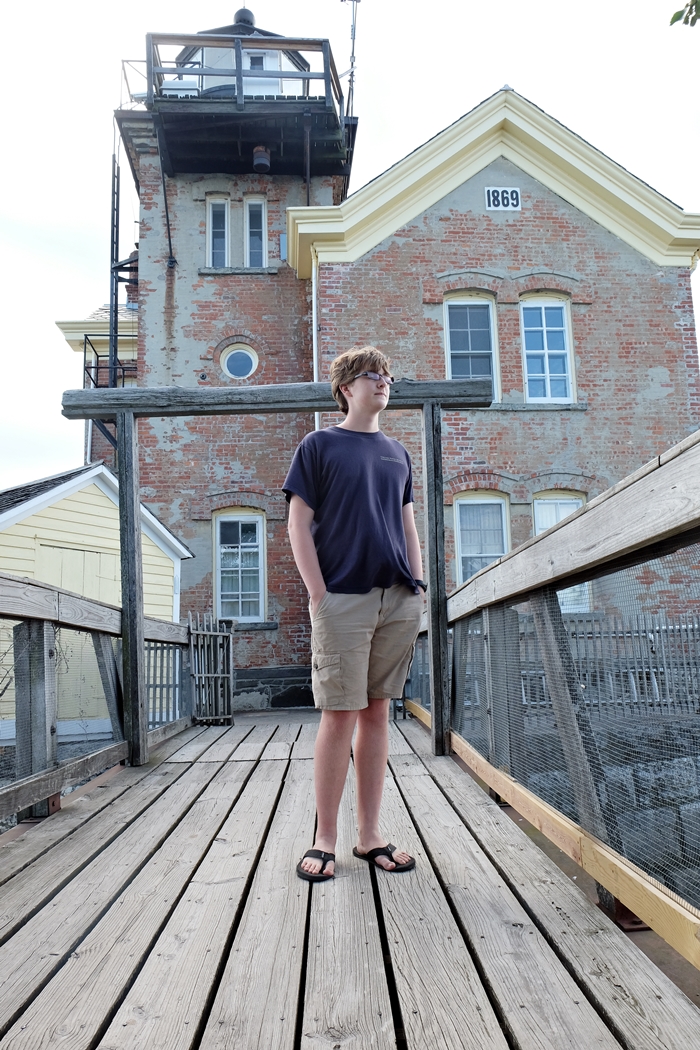 After the lighthouse, we spent some time walking around in downtown Saugerties and grabbed dinner at a diner: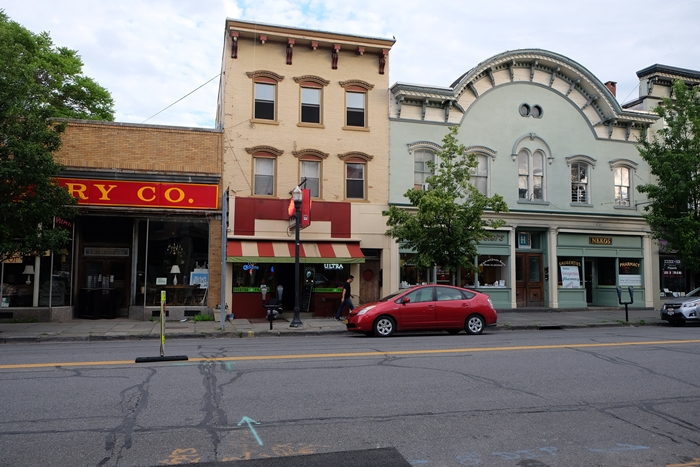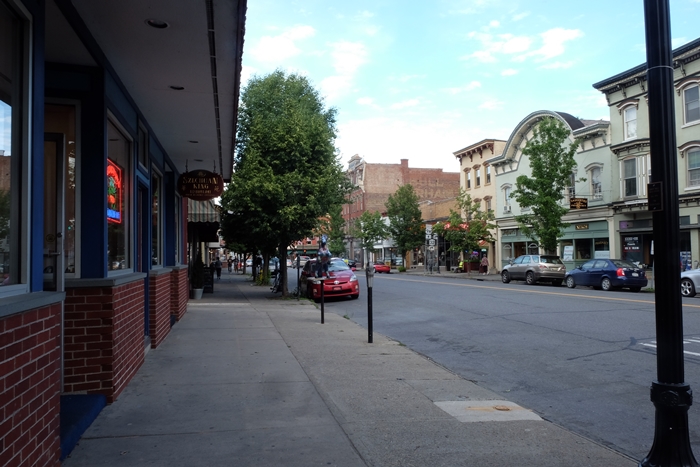 We found a cool little bookstore, Inquiring Minds, where the kids played chess and Dave got some coffee: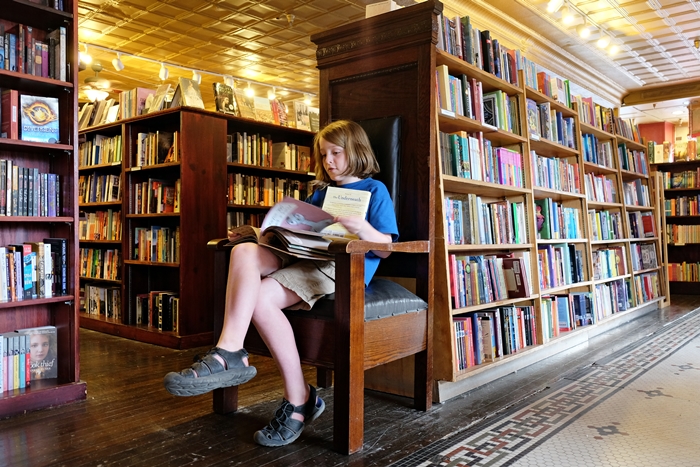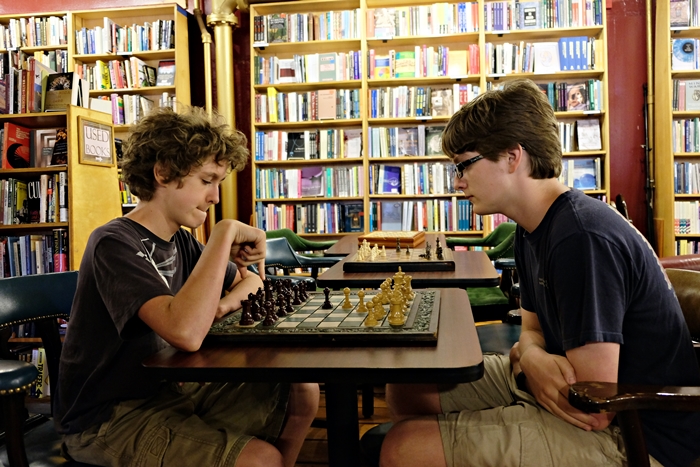 Next up! Well, next up I'm probably going to talk about the Greenville, SC trip that we took over Labor Day weekend before I get back to the summer trip.