When I was in college, my roommate Suzanne and I took a road trip up to Washington, DC and back. My memory on this might be completely wrong, but I feel like this involved driving the entire length of the Blue Ridge Parkway AND Skyline Drive. In the Chevy Cavalier I'd inherited from my grandmother, that had some mysterious undiagnosed issue that meant we had to stop every hour or so to let it rest for a while. Older, wiser road trippers might have decided NOT to put a car in this condition through hundreds of miles of mountain driving and would have taken the interstate home instead. But we were young and foolish, and, somehow, both we and the Chevy survived, and it was a really fun trip. I remember stopping at approximately 87 scenic overlooks (while the car rested) and stopping at one of the Shenandoah visitor centers where we were, awkwardly, the only attendants at a Ranger talk about bear safety, and the ranger kept asking us questions which were clearly intended for the elementary school children she had anticipated as her audience.
I'm the one in overalls, which were, apparently, all I packed: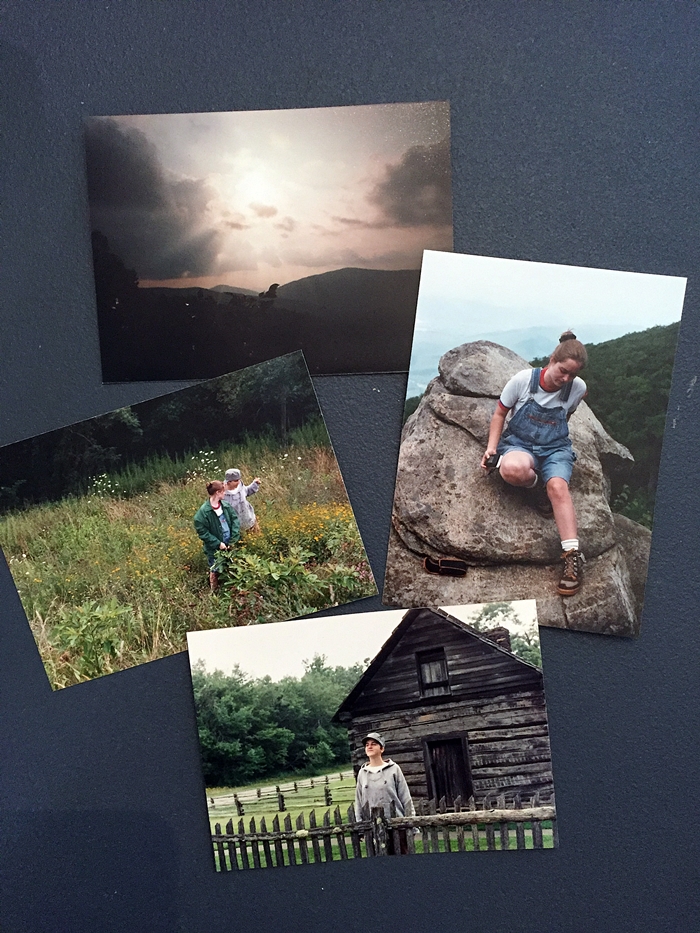 Then I spent the next couple of decades driving up and down the eastern seaboard, right past Shenandoah, nearly every year and never stopping again.
It was high time to fix this, so we included three nights in Luray, VA to our summer itinerary. We had one full day in the park and one partial day (after Dave and the kids went tubing on the Shenandoah); you can read my review of the Luray KOA where we stayed here.
The 109 mile Skyline Drive runs the length of Shenandoah National Park, from Front Royal at the north end to Rockfish Gap at the south end. The road goes, roughly, along the ridge of the Blue Ridge Mountains, and pretty much everything there is to see in Shenandoah is on or adjacent to Skyline Drive. The closest entrance to Luray is Thornton Gap at mile marker 31.5. There's a $20 per car fee to enter (good for seven days), but we had Gus's Every Kid in a Park pass, so we got in for free.
Our destination on our first day was the Byrd visitor center at milepost 51: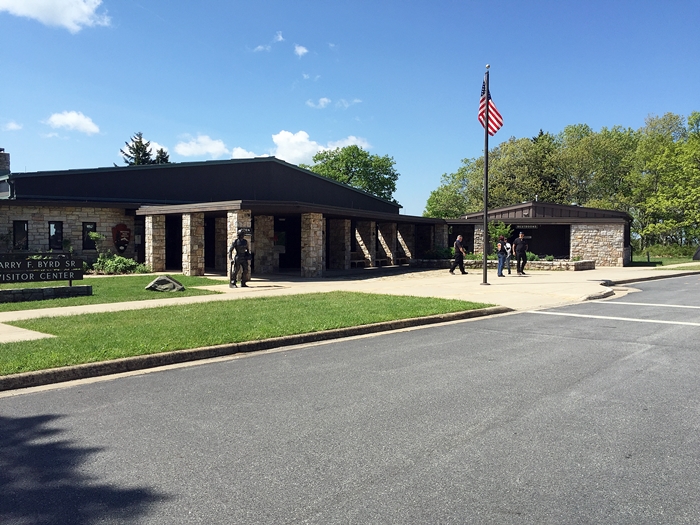 But to get there, we needed to drive 20 miles on Skyline Drive first. Shortly after getting into the park and heading south from Thornton Gap, we drove through Mary's Tunnel:
(I should note that I forgot to put the memory card in my camera on this day, so these are all iphone pictures. Doh! But I had, at least, gotten an new iphone with a better camera shortly before the trip). This tunnel is the main thing people warn you to watch out for if you want to tackle Skyline Drive in an RV; the clearance is 12'8″. We weren't pulling our trailer, but we're just over 10 feet, so we would have made it (we actually got to test out the stated height of our trailer in dramatic fashion on this trip, when we encountered a 11'2″ underpass on our way to Luray. We made it with a few inches to spare, just as our owner's manual promised). I still wouldn't want to do this drive with a trailer, though; there's not much in the way of sharp dropoffs (on the part we drove, at least), but there are plenty of long, steep grades up and down.
The drive is, of course, beautiful, with plenty of places to pull over and take a look. We stopped at a few: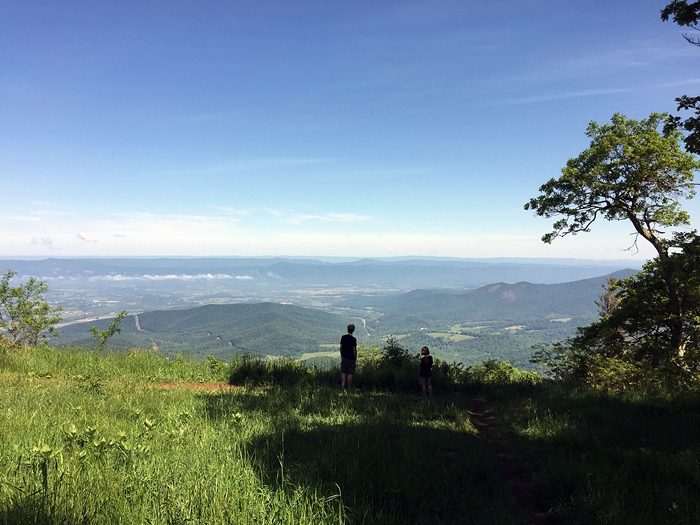 And, then, about a million years later (twenty miles is a lot farther than it sounds when the speed limit is 35 and you have to stop and admire the beauty every few minutes) we reached the Visitor Center.
There are two visitors' centers in the park, and Byrd is by far the larger of the two, with the most extensive programs and exhibits. There's a small museum there detailing the complicated history of the formation of the park, and several different videos are shown in the auditorium. We picked up Junior Ranger books for Milo, Gus, and Abe here, and one of the rangers, overhearing that Ari thinks he's too big for Junior Ranger books, offered him a "Ranger Explorer" book to complete instead. The basic idea is the same as Junior Rangers–you complete a certain number of activities and return the book for a patch (instead of a badge), but the activities are more complex than the Junior Ranger one and geared toward teens: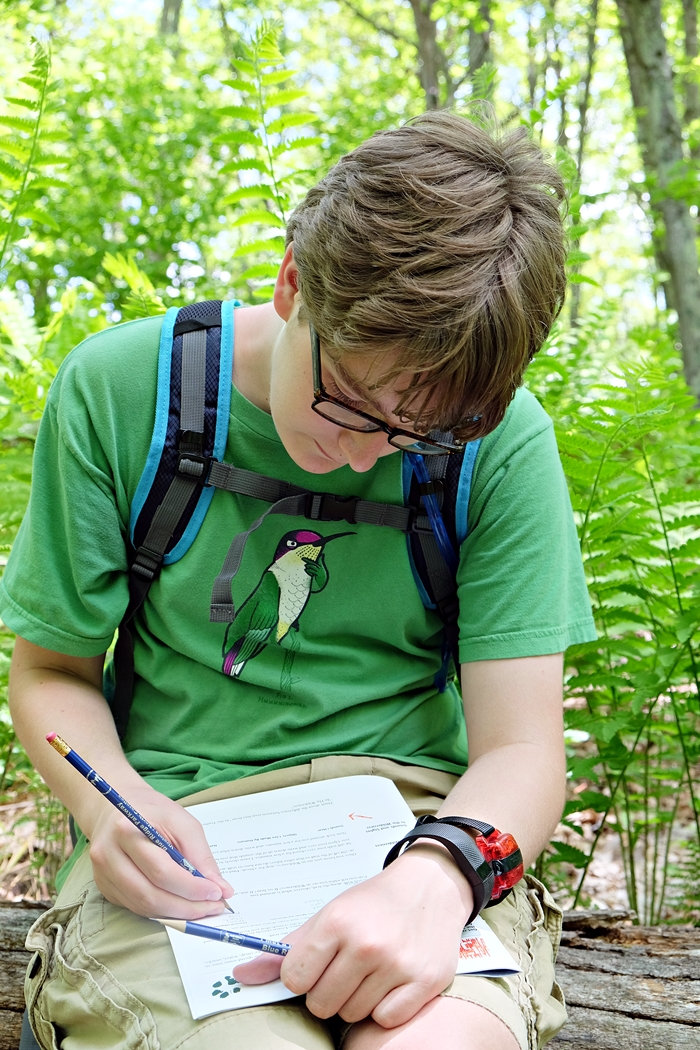 Ari really enjoyed the Ranger Explorers book, so I set about trying to find out more about the program and what other parks might have it. I couldn't find much of anything online, so I asked the ranger about it when he turned the book in the next day. Alas, it turns out that this was a pilot program they did in some of the parks a few years ago, but it didn't take off or the funding dried up or whatever….at any rate, according to my source, they're not making the books anymore; you might stumble across some parks that still have them around, like we did, but it's not something you can count on. Disappointing. I was really excited to have something Ari was interested in, too.
We spent some time exploring the museum and then listened to a ranger talk about vultures that was going on out front. We learned that vultures poop on their legs to stay cool. Good stuff.
By then it was getting to be lunch time, so we headed over to the nearby Big Meadows Lodge to eat at the restaurant there. Our plan had been to leave the park for lunch, but that's easier said than done, really.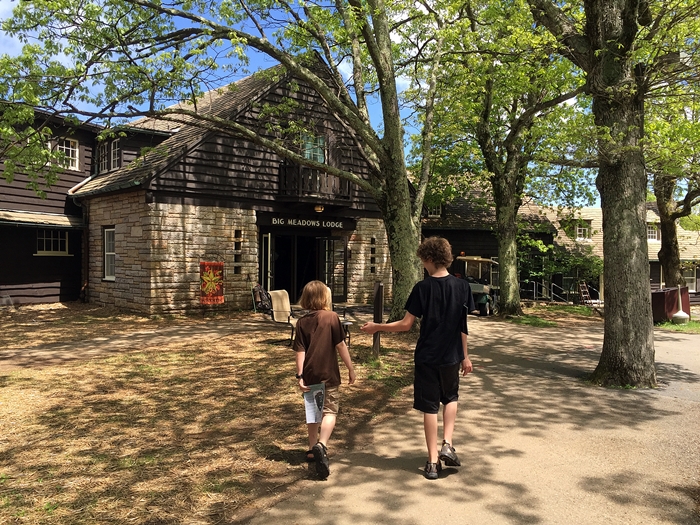 The food at the lodge restaurant was, predictably, expensive and mediocre. But this is your view while you eat, so that's worth something: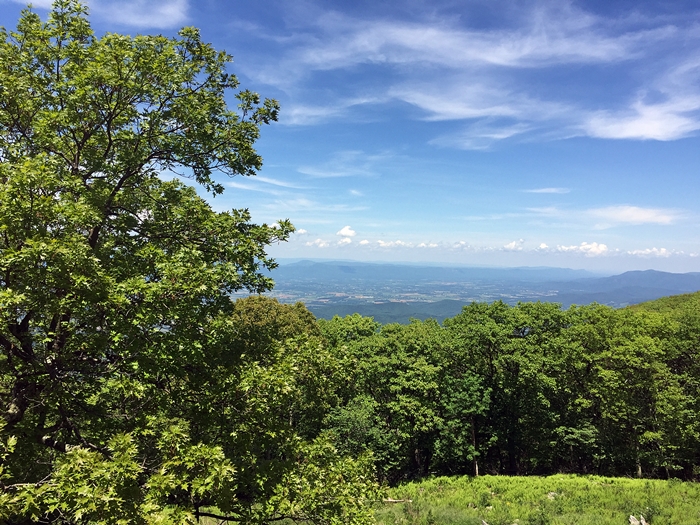 There's a big room with couches and puzzles and stuff to read off the lobby, and we hung out in there for a little while: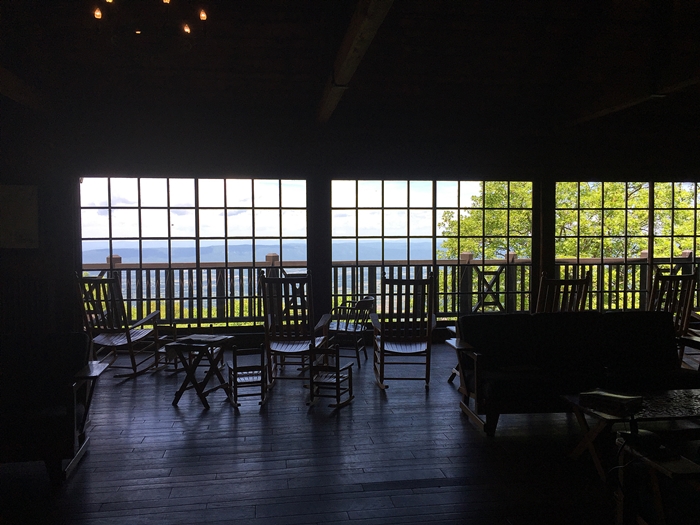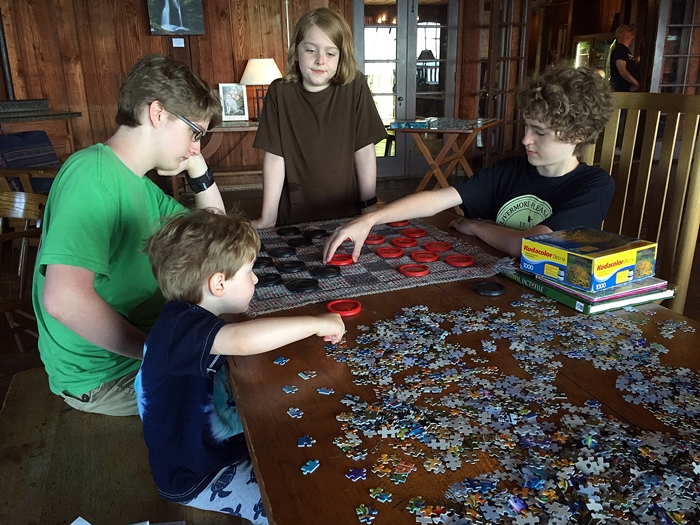 After lunch we went back to park at the visitor center and then walked across the street to hike the Story of the Forest trail. We picked this trail based on the recommendation of RV Family Travel Atlas, who raved about the awesome scavenger hunt booklet they give you to go along with the hike; it sounded perfect, particularly for Abe, who we're trying to wean from baby backpack dependency on hikes. Unfortunately, apparently the grant money dried up for that, too, or something, because the ranger we talked to had no idea what we were talking about. The scavenger hunt-less hike was pleasant enough (and we saw deer!), but fairly unremarkable, and, in retrospect, we probably should have picked something a little more exciting once we found out the scavenger hunt wasn't available anymore.
On our second day, we decided to head the other direction on Skyline Drive, so we entered at Thornton Gap again, but then drove north toward Front Royal and the north entrance to the park. This meant we drove over 30 miles on Skyline Drive, but we were able to leave the park at that point and head back to Luray by way of flatter, faster roads. As part of Ari's Ranger Explorer program, he was supposed to hike into a "wilderness" area (there was a list of options in his book), so we stopped by the Overall Run Trailhead and explored a little: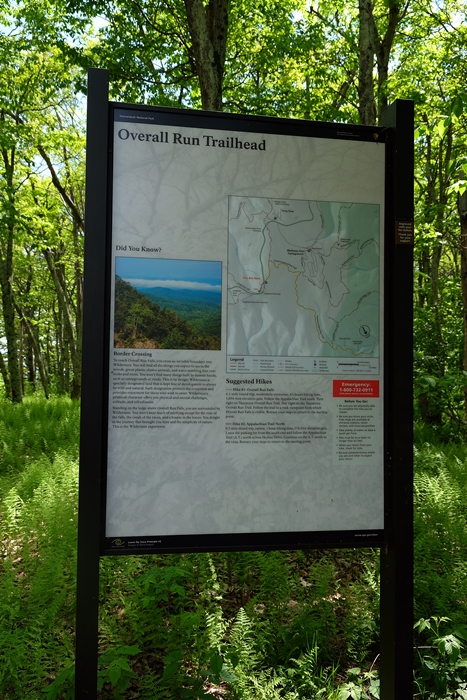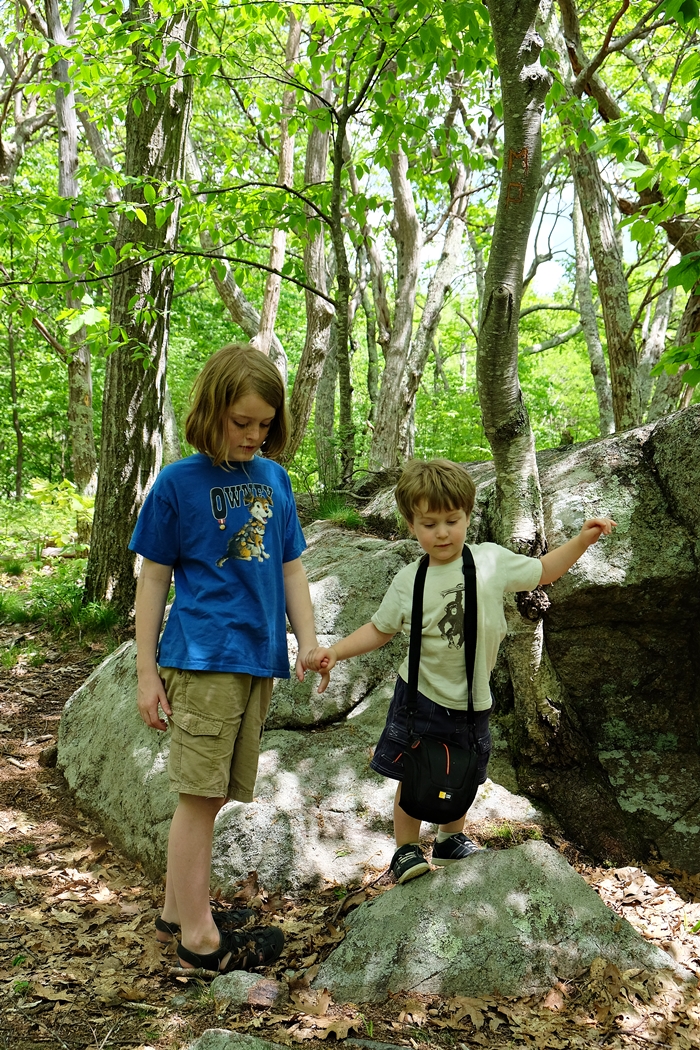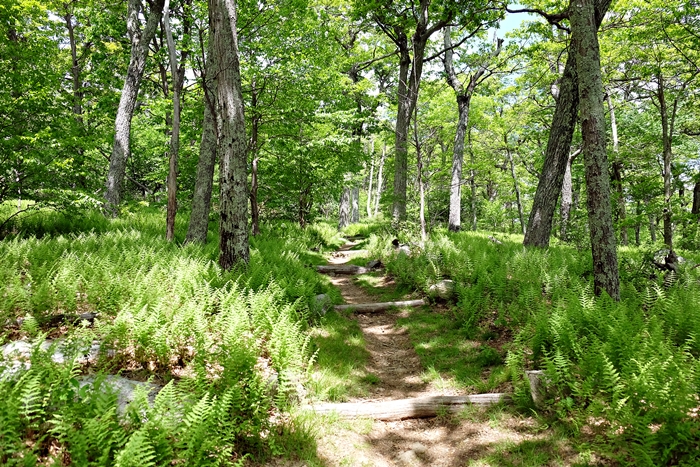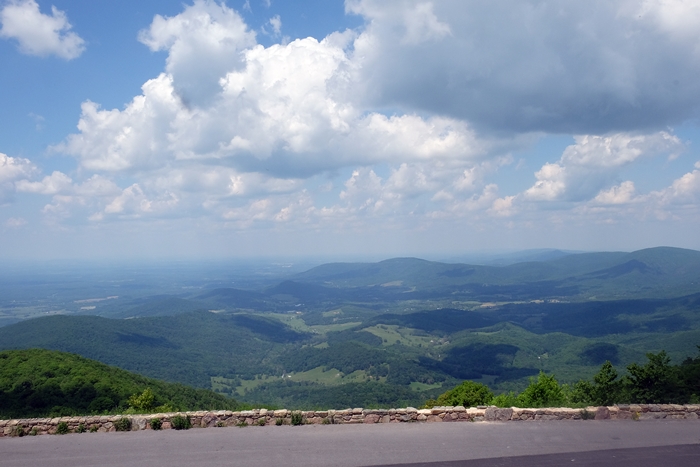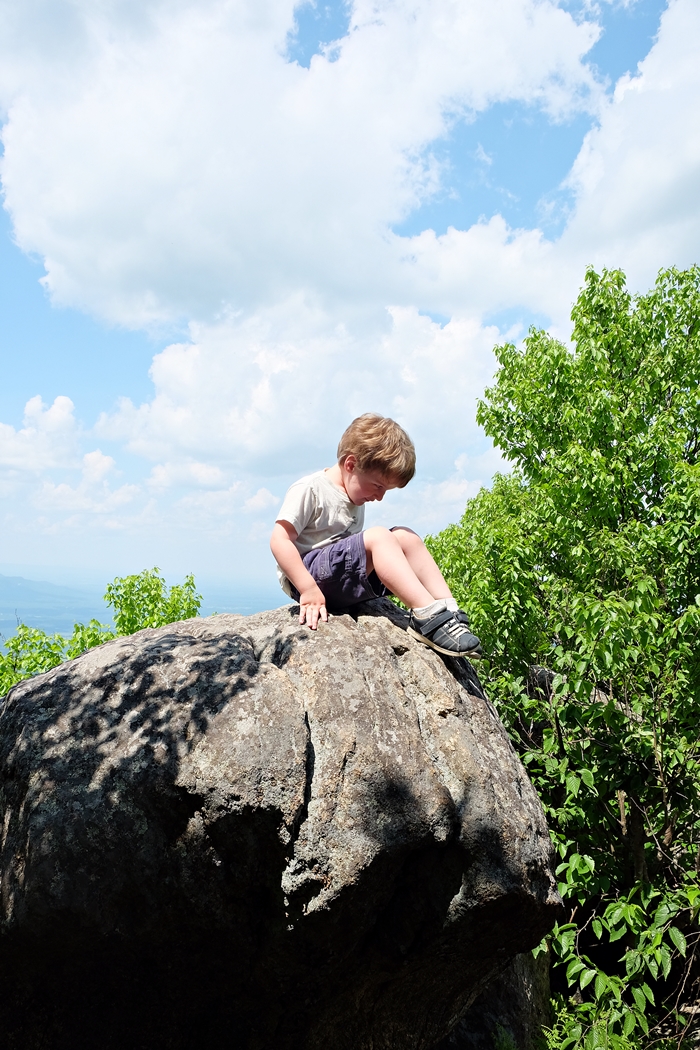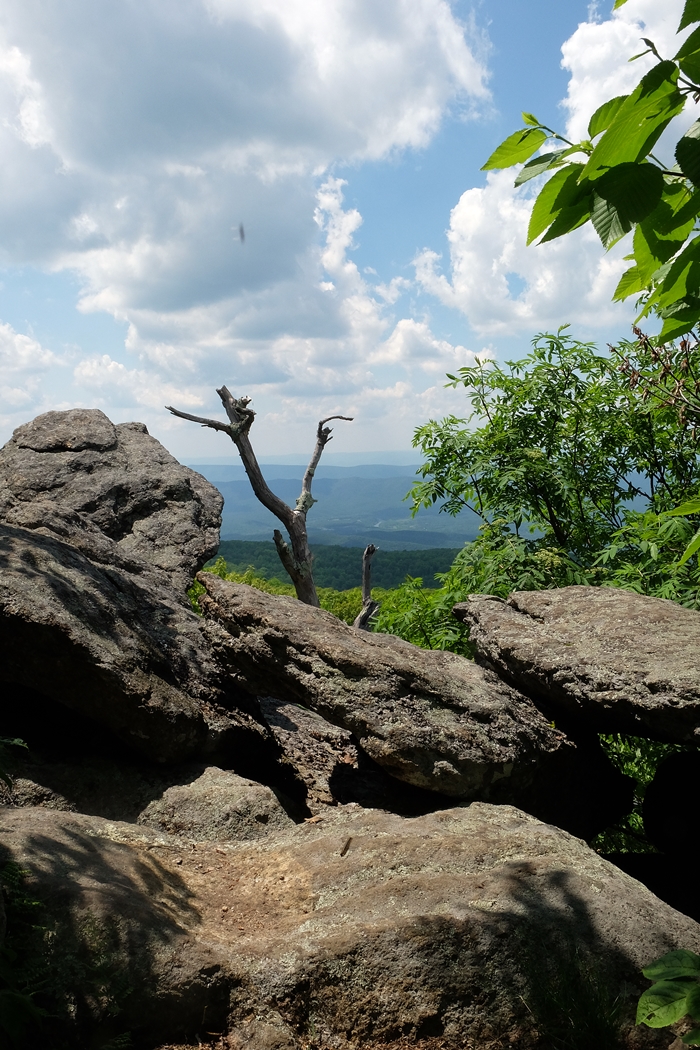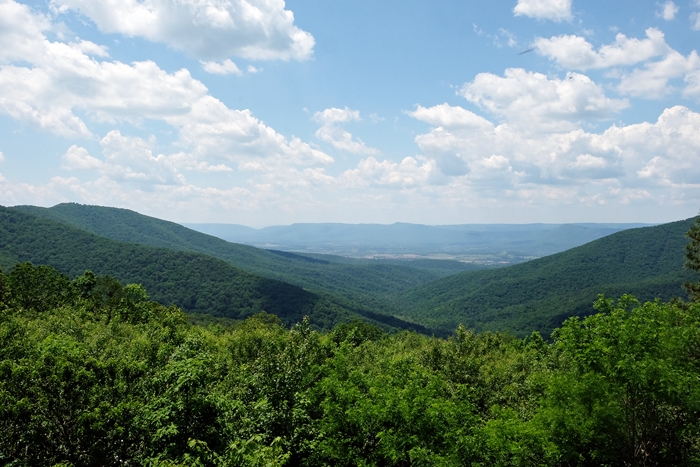 We had left the dogs back in the trailer for our first day in the park, but we had them with us this time. Overall, Shenandoah is a dog friendly park, but there are several popular trails that don't allow pets (including the Story of the Forest trail we'd done the day before). And, of course, dogs can't go in any of the visitor centers or restaurants.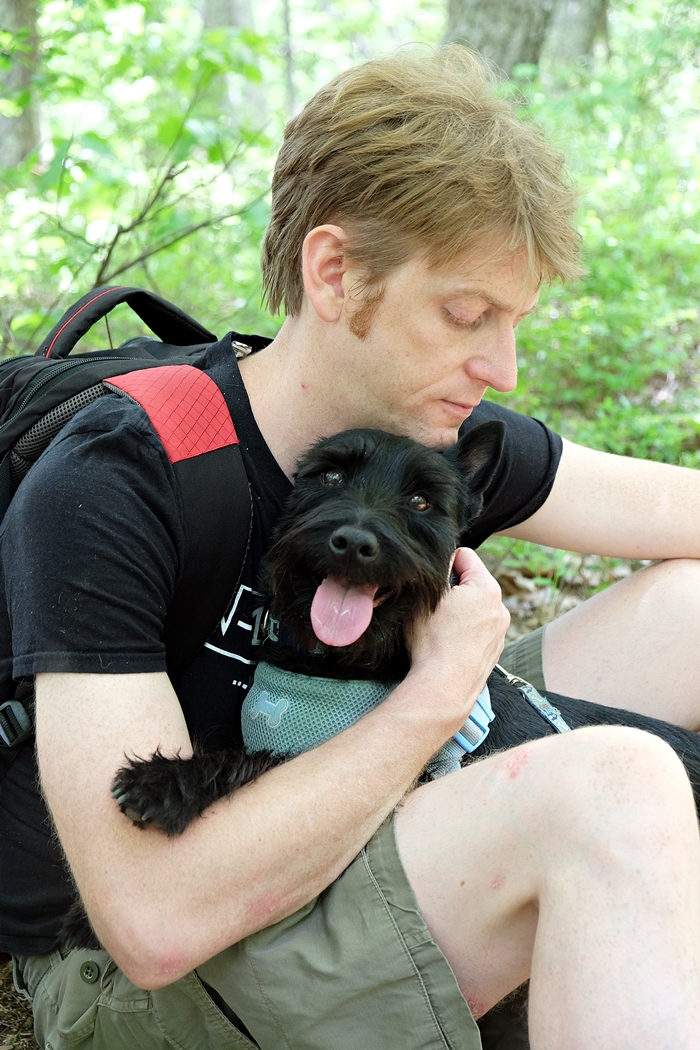 Then we stopped by the Dickey Ridge visitor center at mile 4.6 so we could turn in the assorted junior ranger/ranger explorer books and get some advice about good hikes in the area. I'm pretty sure this is the visitor center where Suzanne and I heard the bear safety talk nearly 20 years ago. It hasn't changed much, as far as I could tell (sadly there was no bear safety talk scheduled while we were there, but they do still do them; I checked!). There's a small exhibit area, a gift shop, and a room where they show an orientation film. Also a big stuffed bear. Watch out, Milo: BEAR!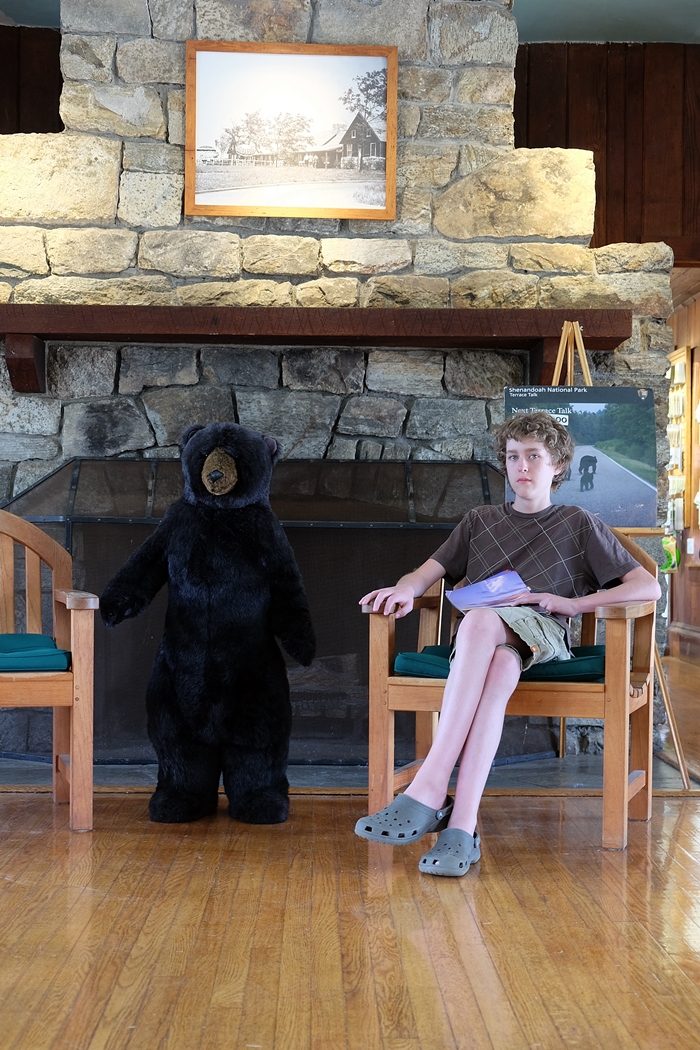 Milo and Gus got to choose between patches and badges when they turned in their books. But when Dave brought Abe in a little later (he'd been asleep in the car, so we let him nap a bit first), the ranger gave him a badge AND a patch, plus a special extra patch for, he said, being the youngest kid all year to become a Junior Ranger. Gus felt this was very unjust (to be fair, it was a different ranger than the one we talked to, and I'm sure he didn't know that Abe had two brothers who had just had to choose between badge and patch).
After talking with the ranger about the possibilities, we decided to hike the Snead Farm/Dickey Ridge loop near the visitor center. It starts on the fire road across the street (and there are no trail markers until AFTER you walk down the fire road a little ways, so this took us awhile to figure out), goes past an old farm, and then meets up with the longer Dickey Ridge Trail to take you back toward the visitor center. It's about 3 1/2 miles overall, with some pretty substantial elevation changes. Basically, we felt like we walked uphill the whole way for the first couple of miles, and then pretty steeply downhill for the last mile or so. So it was a challenging hike, but there's a nice pay off in the form of an amazing view before you start the downhill part. Also, lots of ticks, especially if you hang out in the tall grass around the old farm too much: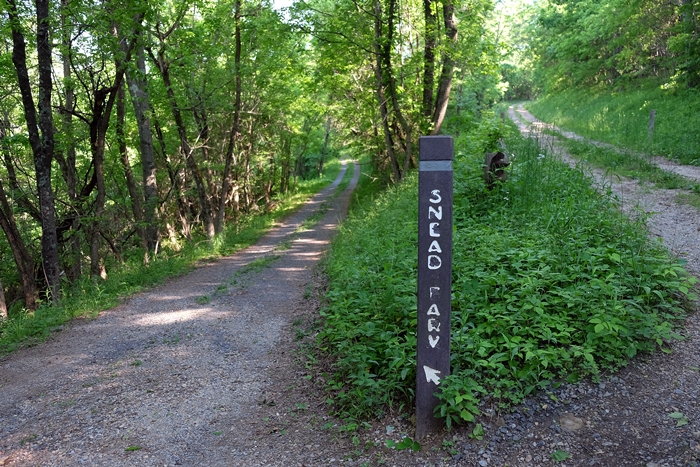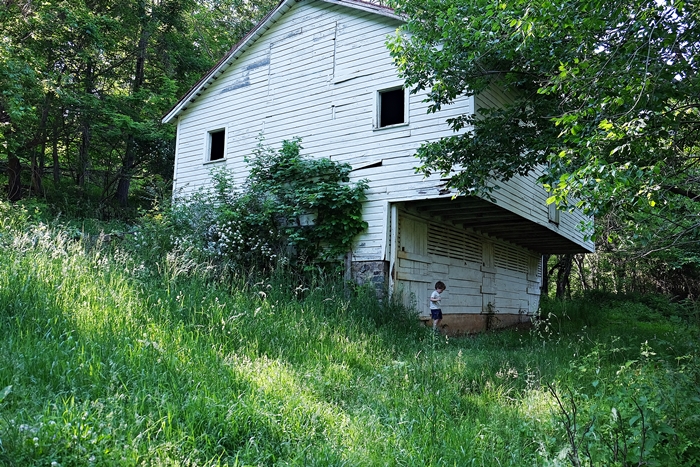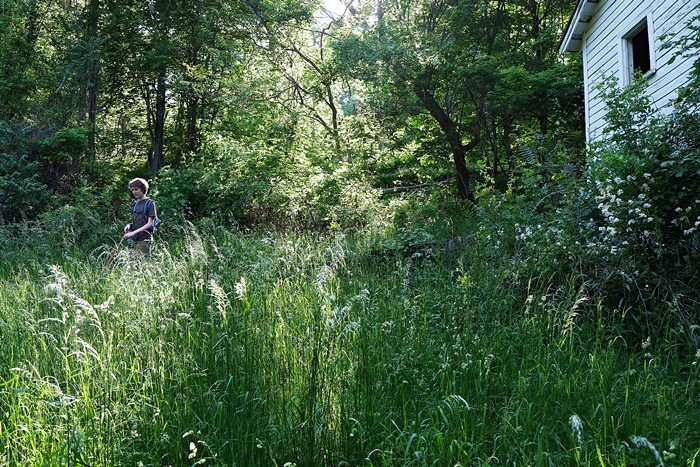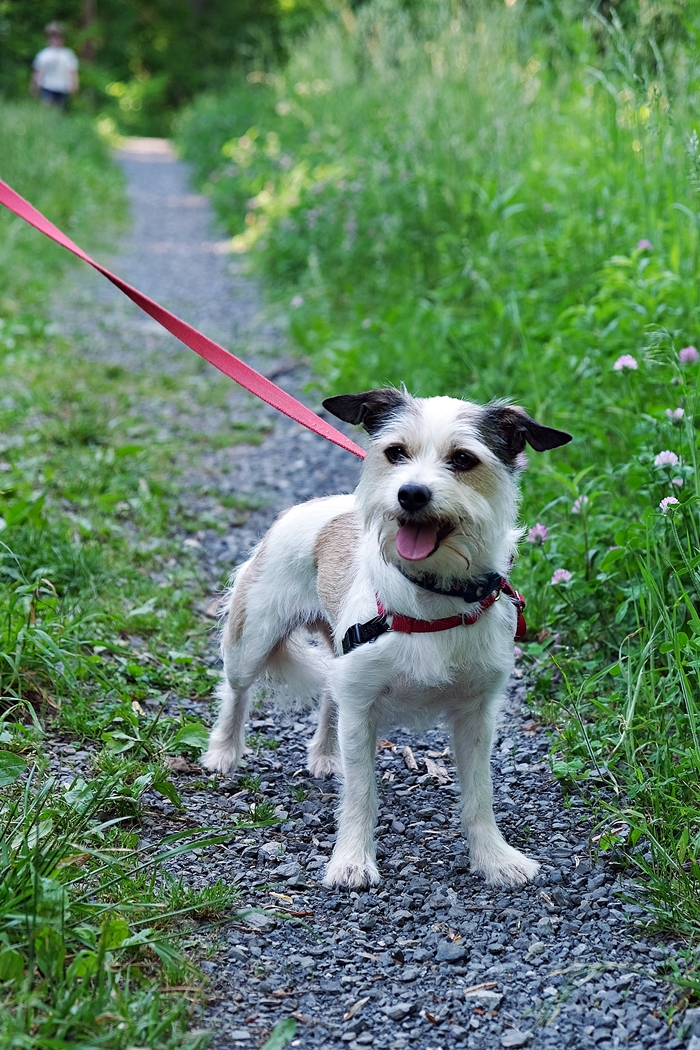 I wish they'd had some kind of signage telling more about the farm and who lived there. There wasn't much to it; that old barn (that you can't go inside) and then a crumbling foundation from a house.
And then, just when you've decided you've been walking uphill through the woods, pulling ticks off yourself and the dogs constantly–for NOTHING–you get to this: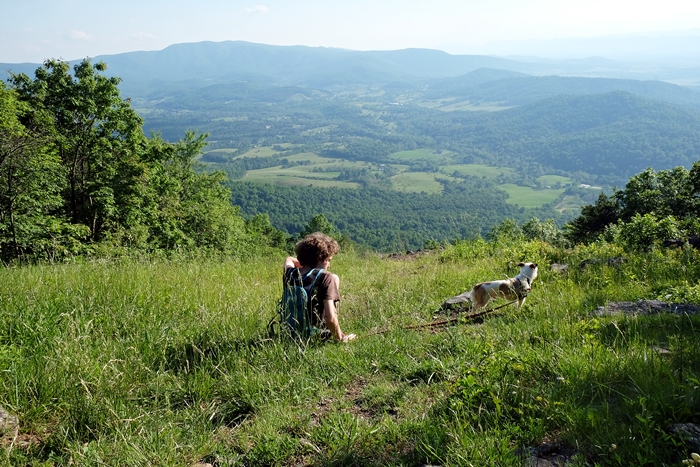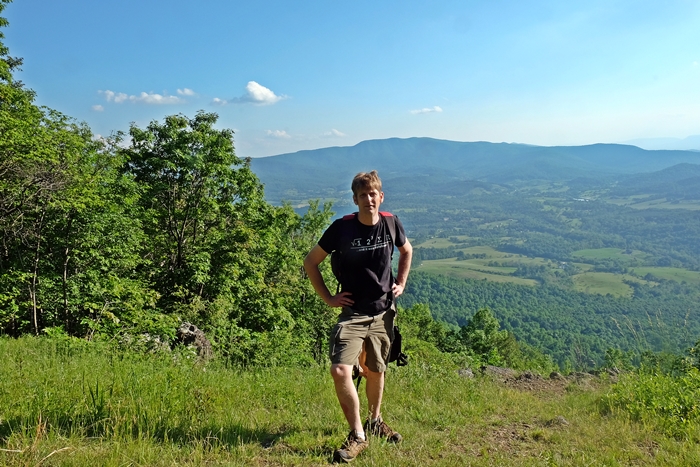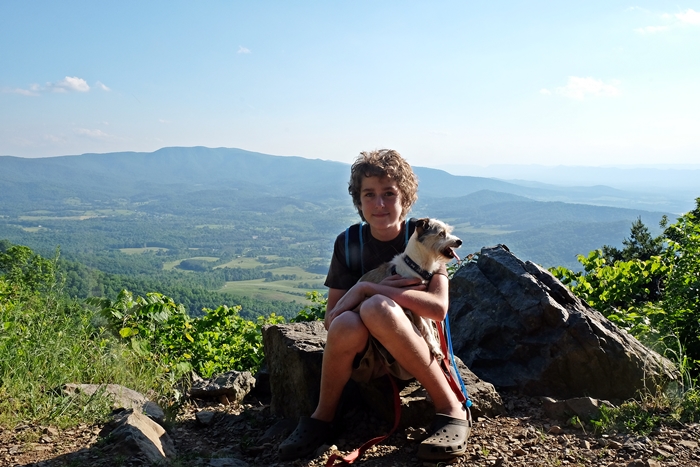 Good to finally see you again, Shenandoah; I'll try to make it back again before another 20 years have passed!

Save
Save