We're counting down the very few days left before our summer trip, which means it's time to finally finish talking about our spring break trip!
The first itinerary of the spring break trip had us stopping in Nashville on the way home instead of Paducah. But we've been to Nashville before and it's within striking distance for a long weekend trip sometime, so we decided to try somewhere brand new instead. Like Paducah, KY, of course!
I was initially drawn to Paducah because of the National Quilt Museum there. I know, I know….but it actually sounded like a good destination for multiple age groups; I like quilts, Ari is interested in design, and Abe likes pretty colors, so it seemed like we were all covered. But we ended up needing to cut our planned stay in Paducah from two nights down to one, and I didn't feel like we'd have enough time to give the quilt museum the attention it deserved (or for us to get our money's worth from it; it's a bit pricey).
We started the day by driving from St. Louis, and we had a very long drive home the next day, so we really only had a few hours in the afternoon to explore Paducah. We decided to head downtown and check out the River Discovery Center and the floodwall murals, which are right across the street from each other. Paducah sits at the confluence of the Tennessee and Ohio rivers, so they take their rivers pretty seriously there.
The River Discovery Center is just what you would expect it to be, based on its name; it's a small museum all about rivers and the Tennessee and Ohio and Paducah's interaction with them specifically.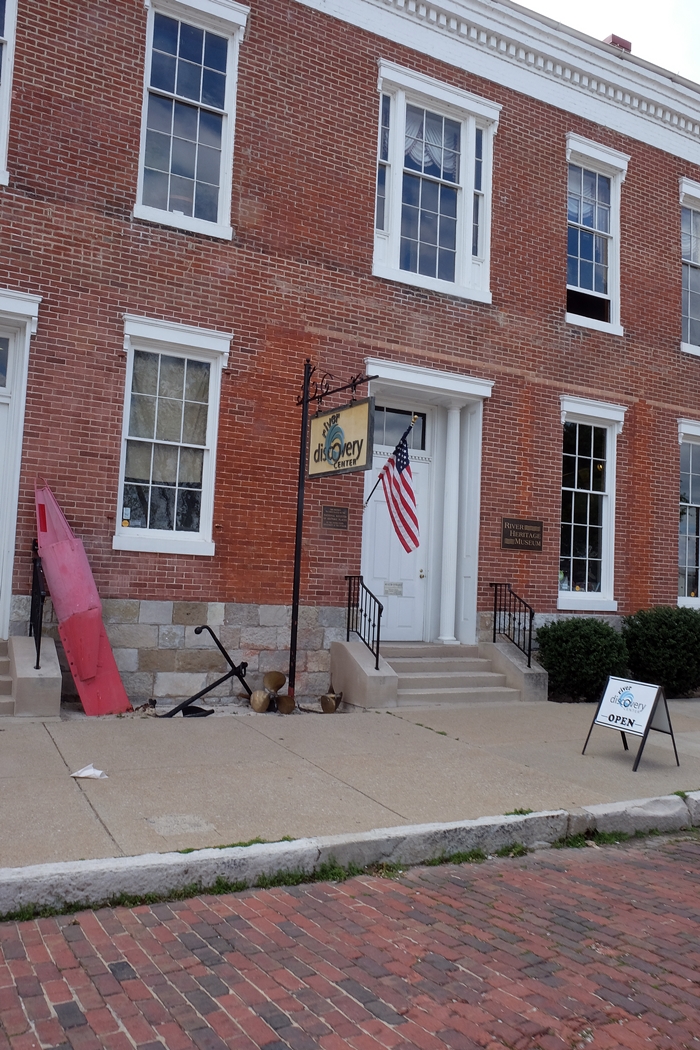 Admission is $8 for adults, $7 for seniors, and $5 for kids up to 12 (Milo is turning 13 in a few days, and I'm very sad about how we'll suddenly have two children who are "adults" for most admission-paying purposes. Incidentally). They gave us a discount because the top floor of the museum was closed for an event (I don't think the more kid-friendly exhibits were up there anyway). I'd say we spent maybe and hour and a half to two hours here. Without Abe, we could have toured at a more leisurely pace, but I'd still say to give it 2 1/2 hours tops.
My favorite exhibit was about the Ohio River flood of 1937, but I don't have any pictures of that because it was really dark in that room. There's also a short film to watch about the rivers' commercial and recreational value. And lots of other river stuff.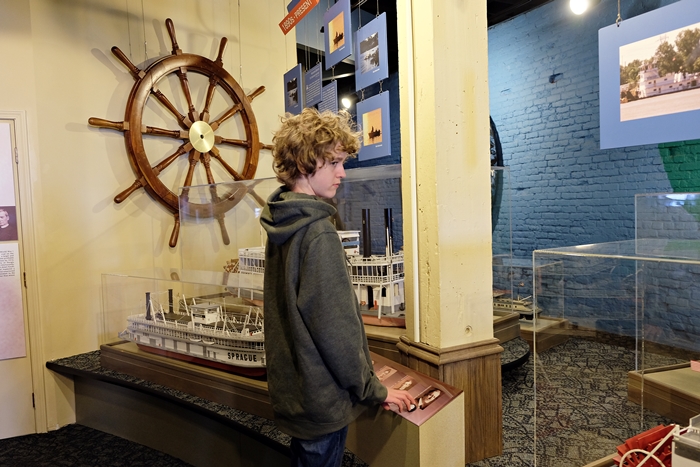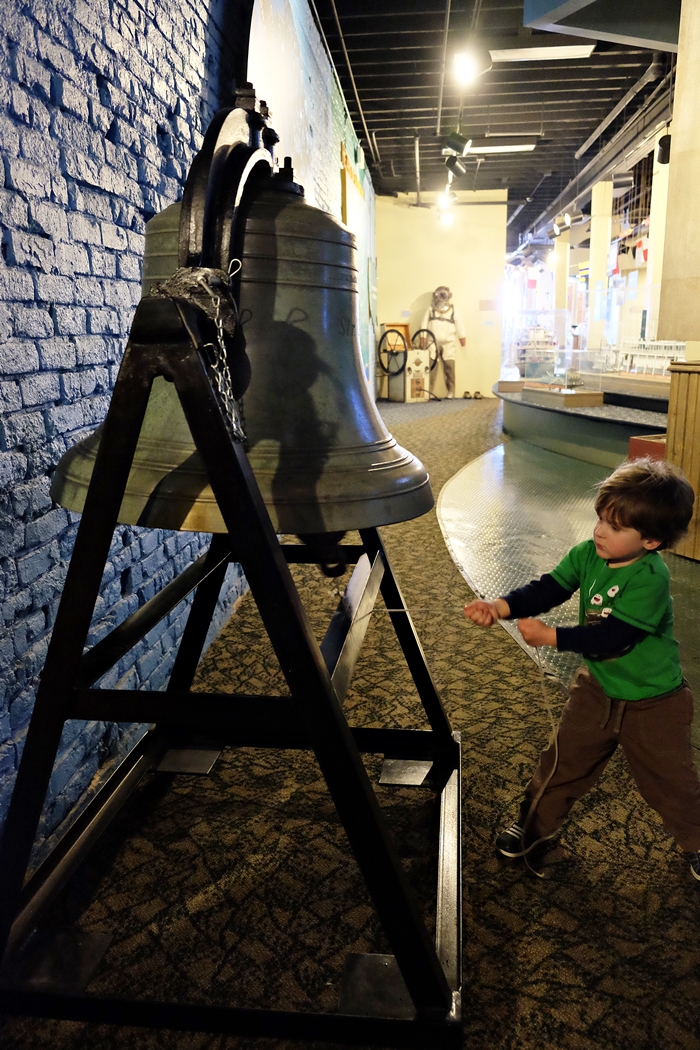 The kids' favorite part by far (and, according the woman who was working there, this is quite common) was the boat simulator. They spent a long time here. We had the whole place to ourselves; I don't know of the River Discovery Center ever gets really busy, but it could be a long wait for the boat simulator if it did, because the simulations are not super quick.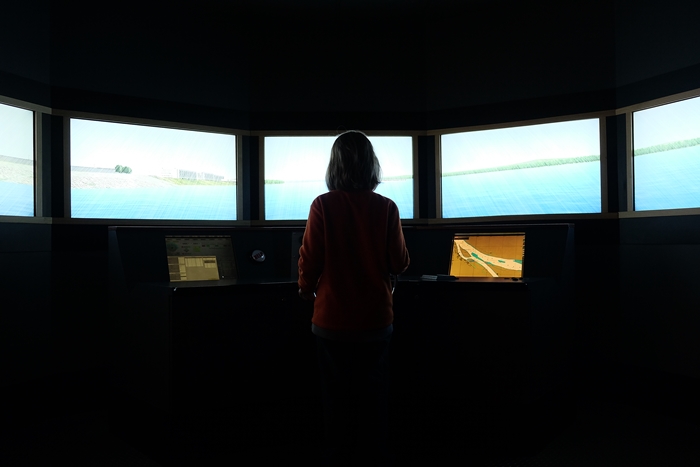 After learning how to drive boats, we went across the street to check out the riverfront and the floodwall murals. So remember that big flood in 1937? After that, the Army Corps of Engineers built a floodwall so that it wouldn't happen again. And starting in the 1990's, artist painted murals on the panels of the floodwall, depicting various themes and events having to do with Paducah. These are pretty awesome.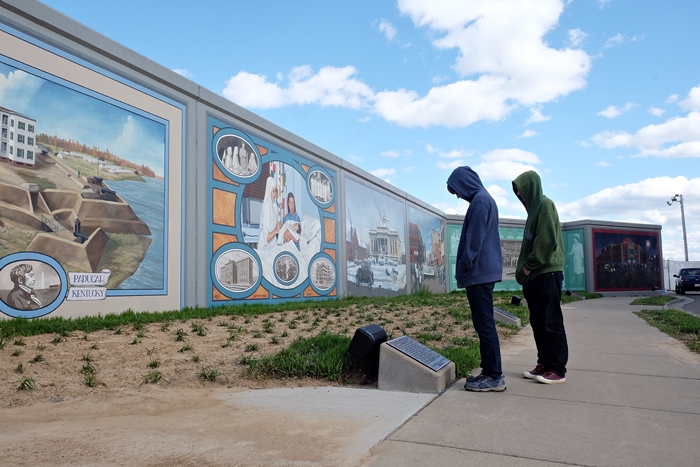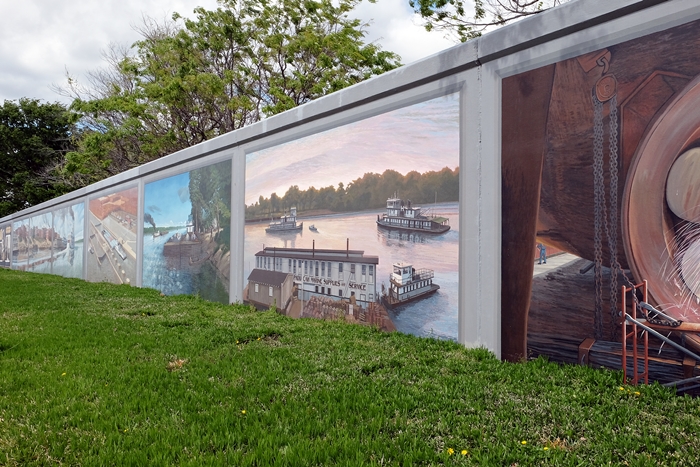 The sky looks lovely, doesn't it? Don't be deceived; it was FREEZING.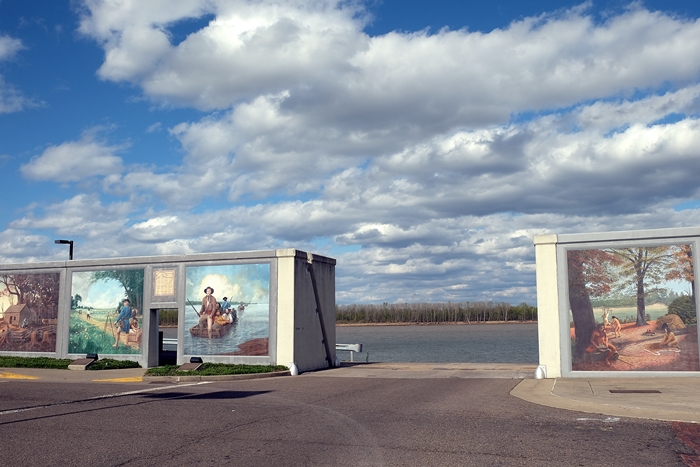 Look! A train! There was also a train museum in this same area, but we didn't have time to check it out.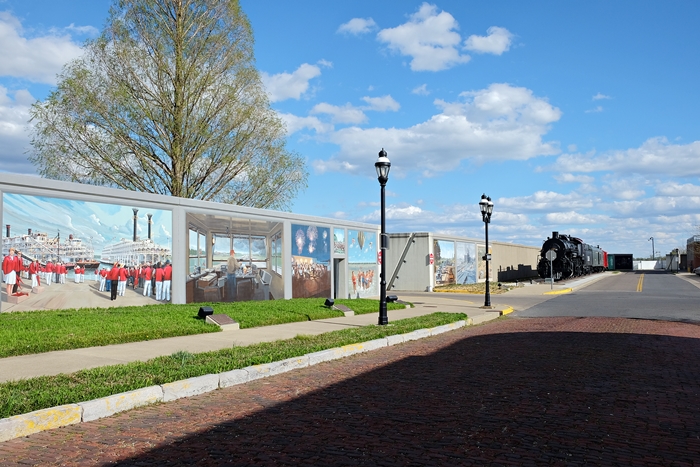 Then we walked to the other side of the floodwall and looked at the actual non-flooding river: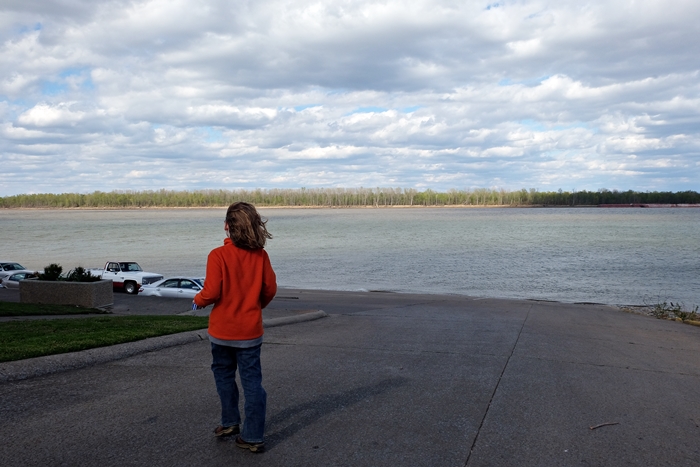 And made the kids stand in front of this sign (painted on the OTHER side of the floodwall):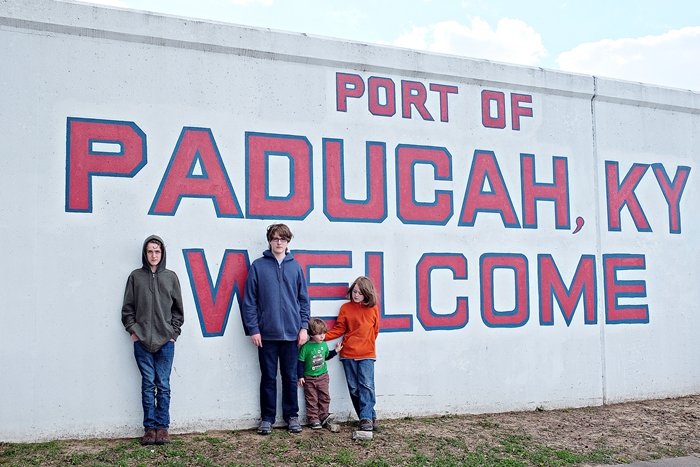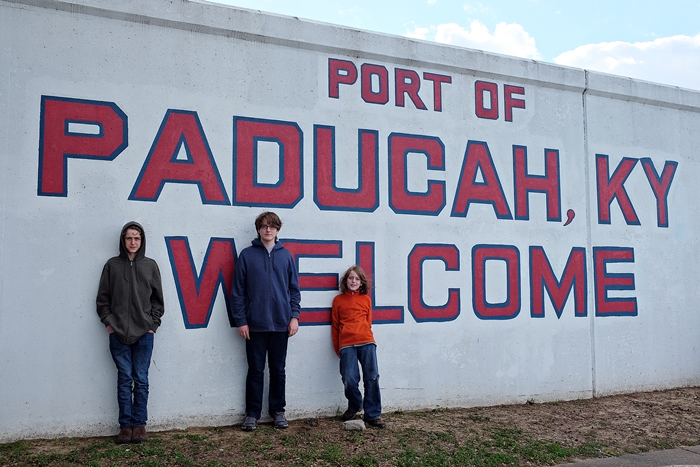 Then we walked around in Paducah's lovely little downtown for a few, freezing minutes. Long enough to discover that the chocolate shop was closed for the day. Frowny face.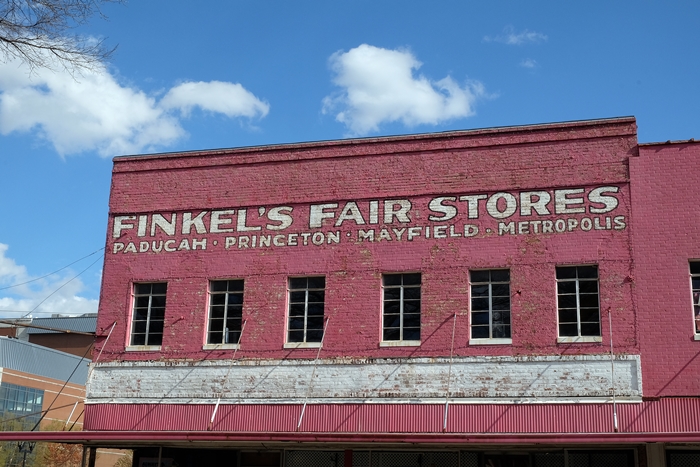 And then we headed back to the campground!
Duck Creek RV Park
There weren't a whole lot of campgrounds to choose from in Paducah. Had we wanted to be a little farther away, we could have looked at the Land Between the Lakes area and found more options (and, in fact, it sounds like a great place to visit, and we'd love to make it back there someday). But since we were planning to spend our touring time in Paducah proper, we decided to go with Duck Creek RV Park, the most promising sounding of the Paducah RV camping options, and only about 10 minutes from downtown.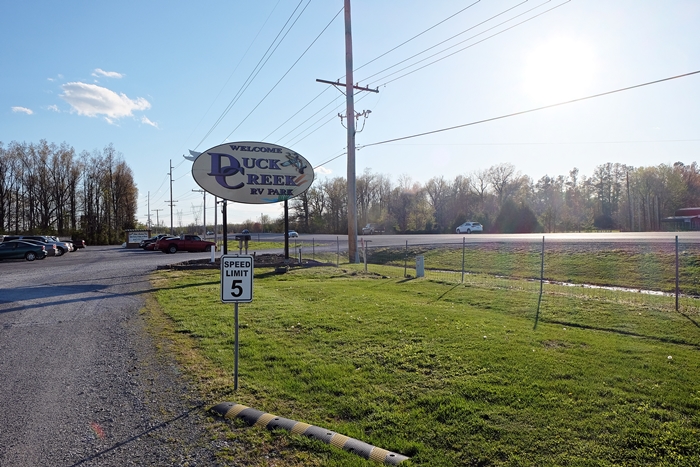 I have to admit that I wasn't super excited when we first pulled in (it was very easy to find and access from the interstate); it looked more or less like a big gravel parking lot, right next door to a used car auction place. But things got a little more exciting when they gave us this complimentary rubber ducky when we checked in: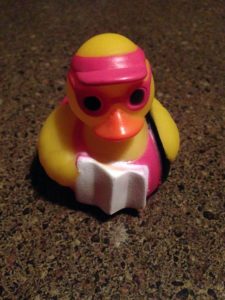 We were escorted to our site, which was a pull through at the front of the campground. It looks as if these sites are mostly reserved for short stays, and the back of the park is mostly long term residents. It wasn't a huge site (we could have stayed hitched up and still fit, I think, but barely), but we were only there one night and it was too cold to sit outside much, so it was fine for our purposes: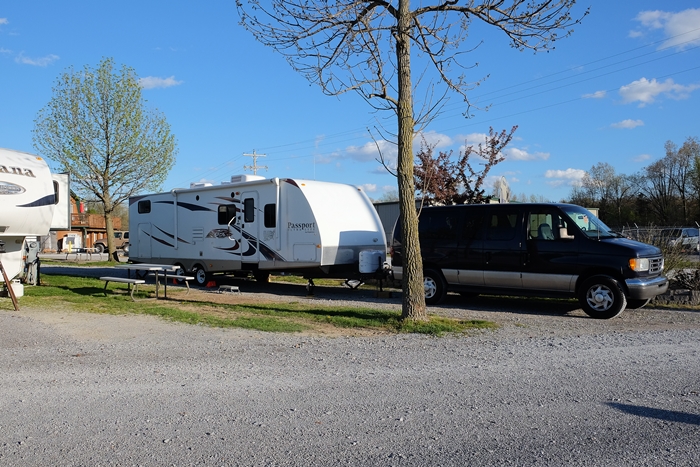 These front sites are right on the highway; there's just the gravel road and a narrow strip of grass separating the campsites from it (you can see what I mean in the photo up there with the Duck Creek sign). We're pretty sound sleepers, so road noise didn't bother us much, but something to be aware of if you're more sensitive to sound.
There's a pool and a small store (neither of which we checked out, since were there such a short amount of time), but other than that it's pretty bare bones as far as amenities and activities. Like I said, my first impression was definitely, "oh. This is not the prettiest place we've ever stayed at." But it turned out that Duck Creek does its job very well. If you're looking for a clean, safe place to stay while you're visiting Paducah, it works just fine. Sites were level and big enough, the wi-fi was great, and everyone was friendly and helpful. It's not a hang out all day at the campground kind of place, but if this is the location you need, I would definitely feel fine recommending it.
The biggest surprise was the very nice dog park. The first time I walked the dogs, I just walked them around the campground and didn't even notice it, but on our second go round, we found it tucked back in the corner by the creek. It's a big, grassy, securely fenced area. With a gazebo, even! We had the place to ourselves, and the dogs got to run off leash for the first time in a week: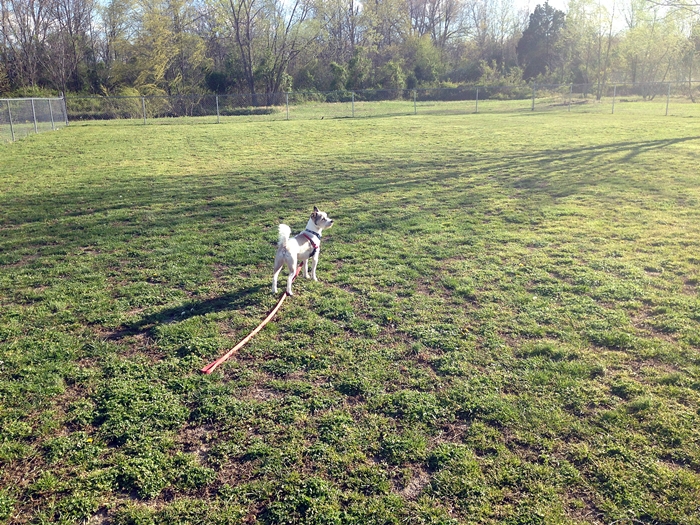 And that's it! The very end of our cold but lovely spring break trip. Now excuse me while I go pack for our early summer trip!