When I was a kid, I had this nightmare that, it seems, affected me so deeply that I remember it in detail decades later. In this dream, my mom, my brother, and I were out going to garage sales, and my mom said she would take us all to McDonalds. But she missed the turn into the McDonalds and, instead of turning around, decided to keep driving in hopes of finding another one. Gradually we left commercial civilization behind, and eventually the road narrowed and turned to dirt and started to get very, very creepy. Yet my mother wouldn't turn around, no matter how unlikely the discovery of a McDonalds on this route was looking and no matter how much I begged her to. Finally, she stopped the car and got out to look around, but somehow she started sinking or being pulled by something into some kind of ravine or hole on the side of the road. The dream ends with me trying desperately to pull her back out.
Okay, so this isn't exactly what happened on our trip, but we did have an incident, just before getting to our campground in St. Louis, when I had reason to call this dream to mind.
Owing to our extended stop at the Lincoln Boyhood Memorial, we got into the St. Louis area a little later in the evening than we had planned. We were just a few miles down the road from our exit when a certain child who shall remain nameless suddenly needed to go the bathroom really, REALLY bad. Handy travel tip: 20 ounce Cokes for all as a special treat to help the last 100 miles of a long drive go by faster=terrible idea.
It wasn't a good stretch of interstate for stopping, so we pulled off at the next exit to find a safe place to pull over. But we quickly discovered that the exit we had chosen was a bit less developed than we were hoping or expecting. There was no readily obvious place where we could turn around. But we pulled over so nameless child could deal with his issue and then considered. The road we had exited onto was a dead end. There was one road turning off to the right that I thought looked fairly promising, and I suggested that way, but Dave said, "why don't we just do what the GPS wants us to do?" The van's GPS (which came with the van when we bought it) did, indeed, seem confident that it knew what we should do. It wanted us to pass the promising looking road and turn left instead, which seemed like it might be a good way to circle back to the ramp onto the interstate.
But no. The road immediately looked….iffy. Hilly and narrow and winding. And then, in short order, we came upon a fork in the road where we faced the following two choices: narrow, extremely rustic looking, one lane wooden bridge one way and a sign saying "Quarry road only. No public access" the other way.
Seriously.
This image flashed before my eyes: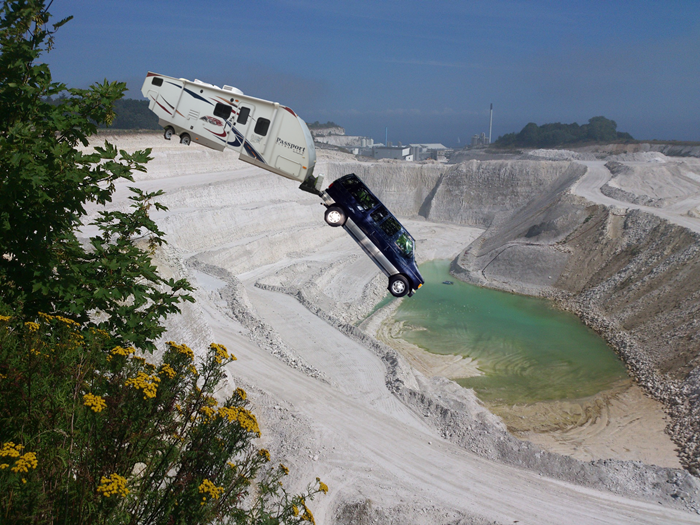 Now, since there was a fork in the road with two dramatically terrible choices, getting out of this mess was actually relatively straightforward. Dave pulled down the terrifying quarry road just far enough that we could back the trailer onto the terrifying bridge road (the part before the terrifying bridge) and get turned around.
There were some complicating factors, like how there was a ditch on one side of the road and barbed wire on the other, giving us little room for error. And how a swarm of bugs tried to fly in my mouth when I was trying to shout directions to Dave. But we made it! Horrible death crashing into quarry averted!
Lesson learned: never turn on the van's GPS again.
Incidentally, we looked on a map at the private quarry road later on, and it looked….fine. Like we would have plenty of time and opportunity to turn around before accidentally driving into a quarry.
In retrospect, I'm almost glad this happened. Because it's the sort of situation I've been fearing since way back before we even bought a travel trailer and…it turned out fine. We I only sort of panicked; I held it together enough to help Dave back up, at any rate, and we didn't even fight about it!