Some people travel to see beautiful scenery. Some people want to eat at the best restaurants in the world. For some, it's all about touring masterpieces of architecture.
Me? I'm mostly in it for the Abraham Lincoln stuff.
We plan to do a big tour of Lincoln-related sites sometime in the window when our own Abe is old enough to appreciate it but not old enough to roll his eyes about it. He's just three now, so we have a couple of years to go, I figure.
Still, it was breaking my heart a little bit to be so close to Lincoln's birthplace when we were at Mammoth Cave and not make it over there. But we only had one day at Mammoth Cave, so going on that day was out of the question. And it was the wrong direction from St. Louis, so adding it into an already very long driving day on Monday seemed foolish.
But then we took another look at the map and realized that Lincoln Boyhood National Memorial just outside of Santa Claus,Indiana, site of the farm where the Lincoln family moved when they left Kentucky, was pretty much right on the way.
We called to check if they had RV parking, and they said yes, so we were all set. It turned out to be a perfect place to stop.
The site consists of a visitor center with a small museum, the pioneer cemetery where Lincoln's mother was buried, a couple of short trails, and a recreation of a 19th century farm like the Lincolns would have owned. The farm wasn't yet open for the season (although we could still walk through and see the buildings and animals), which is probably part of the reason why it was a very quiet day and we mostly had the place to ourselves.
They did have a few dedicated RV parking spaces, but we had to back into one, which would have been tricky on a more crowded day (as it was, there were only a couple of other cars in the parking lot, and we were the only RV there). But we were able to pull up in such a way that we could back straight into the space, so it was pretty easy. You can see the trailer in the background in this picture: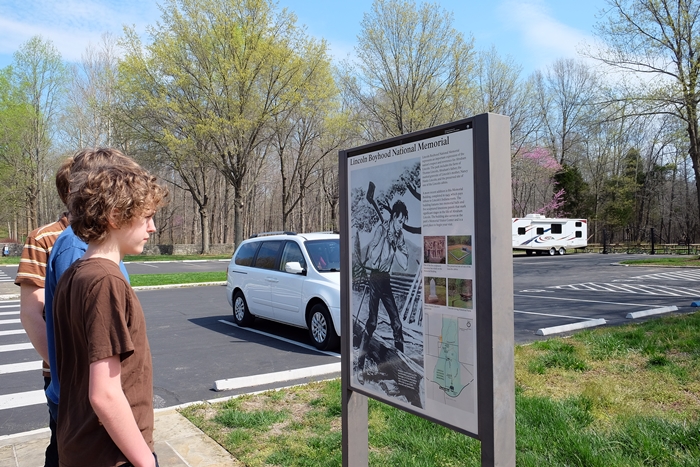 We took the dogs out to pee and drink some water and then put them in the trailer while we went into the visitor center.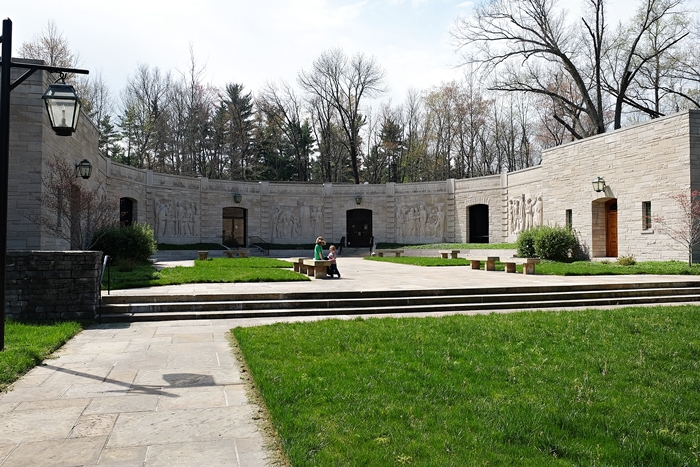 Those are scenes from Lincoln's life that you see carved into the walls. There's a brochure you can pick up inside that tells you all about them.
The entrance fee is $5 per person over 16 or $10 per family, which meant we finally got a chance to use Gus's Every Kid in a Park 4th grader pass to waive the fee. We traded in his certificate for a nice plastic card; the ranger had to go ask someone what to do, as we were the first ones he'd encountered using the pass.
We picked up Junior Ranger books and explored the small museum with exhibits about what life was like in the area when Lincoln was growing up. There's also a short movie, which the older kids and Dave watched while I took Abe to look at this giant rug:
We made sure Abe was appropriately dressed for the visit: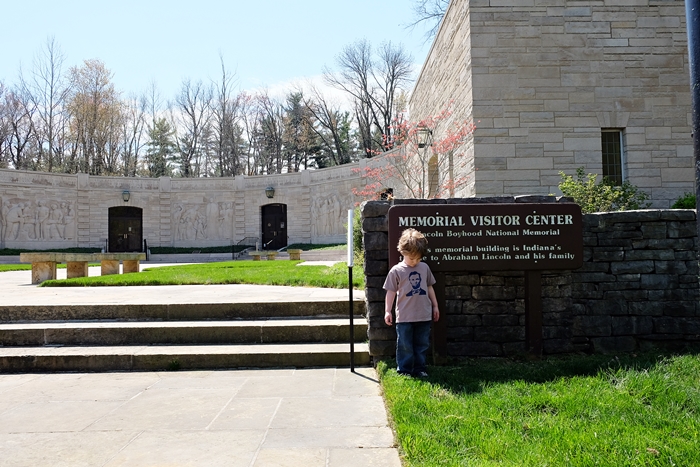 After we finished exploring the visitor center, we made sandwiches in the trailer and ate at the picnic table that was right behind our parking space. This is the first trip where we've really taken full advantage of the fact that we pull an extra house with us when we travel now, and it was pretty cool.
Then we (and the dogs) set out to explore some of the trails on the property. You can do a loop of about a mile and a half that takes you past the pioneer cemetery where Lincoln's mother is buried and then on to the re-creation of the 1820's homestead.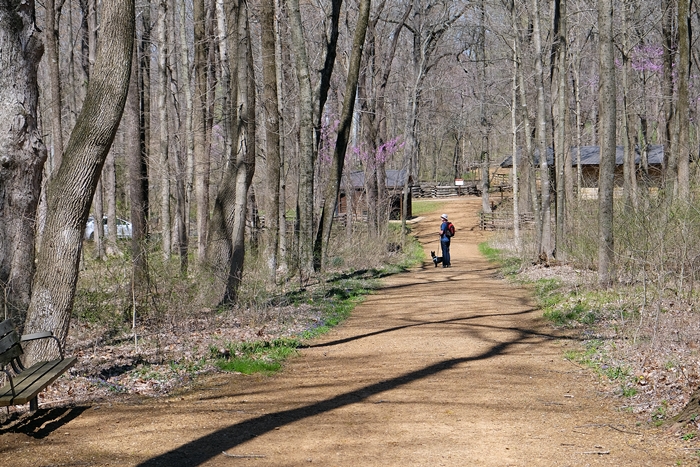 We weren't expecting a whole lot here since we'd been told it was closed, but we could go in the cabin and see the animals through the fences. I guess in season they have people doing a lot of demonstrations and that kind of thing.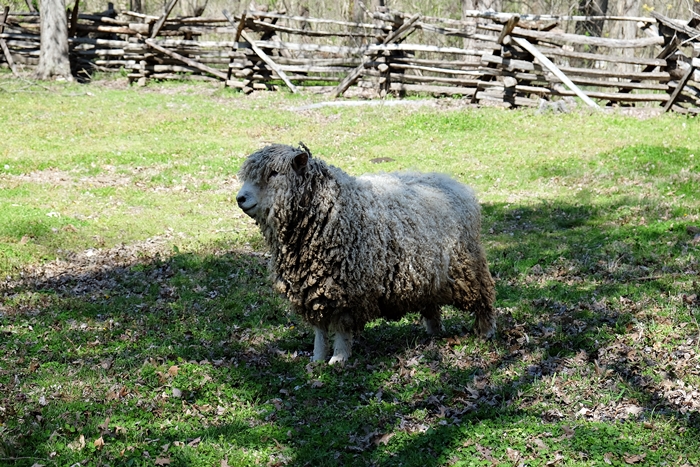 This sheep looks like he could use a haircut. But it was pretty chilly, so probably it's lucky he got to keep his wool for a little longer.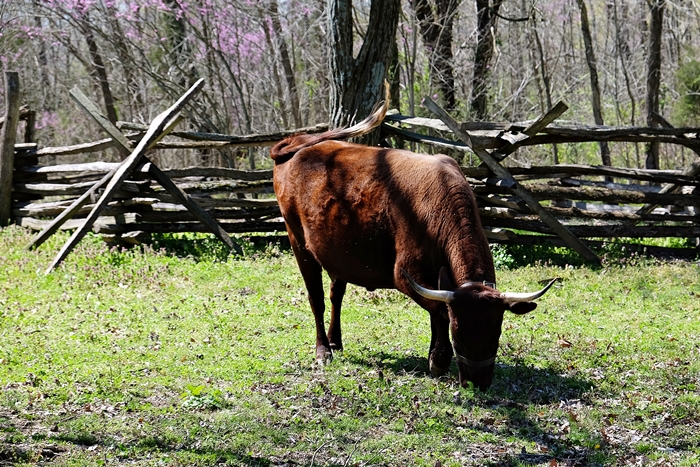 Fergus and Rory–the damn terriers–were barking maniacally at the animals, so we didn't get to hang out with them for long. Fiesta the indifferent Beagle is our best traveler by far.
This is also where you see the site of the original cabin, with the footprint laid out: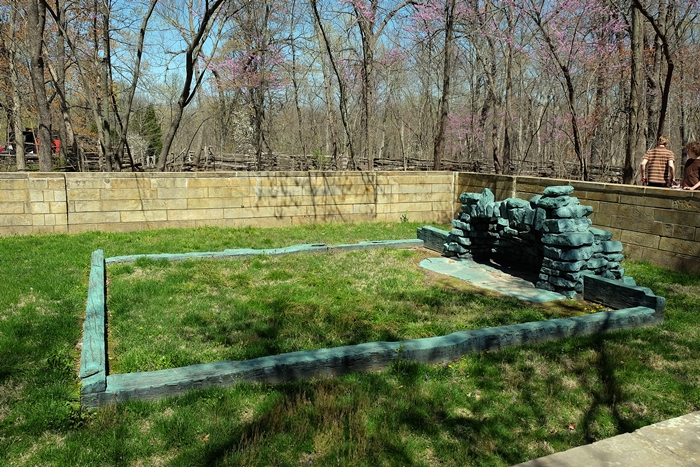 We spent some time trying to decide if it's bigger than our trailer (consensus: probably so. But then we don't live in our trailer full time).
After the farm, we went back to the visitor center by way of the Trail of Twelve Stones. There are (12!) stones along the way from important places in Lincoln's life, with markers explaining each one.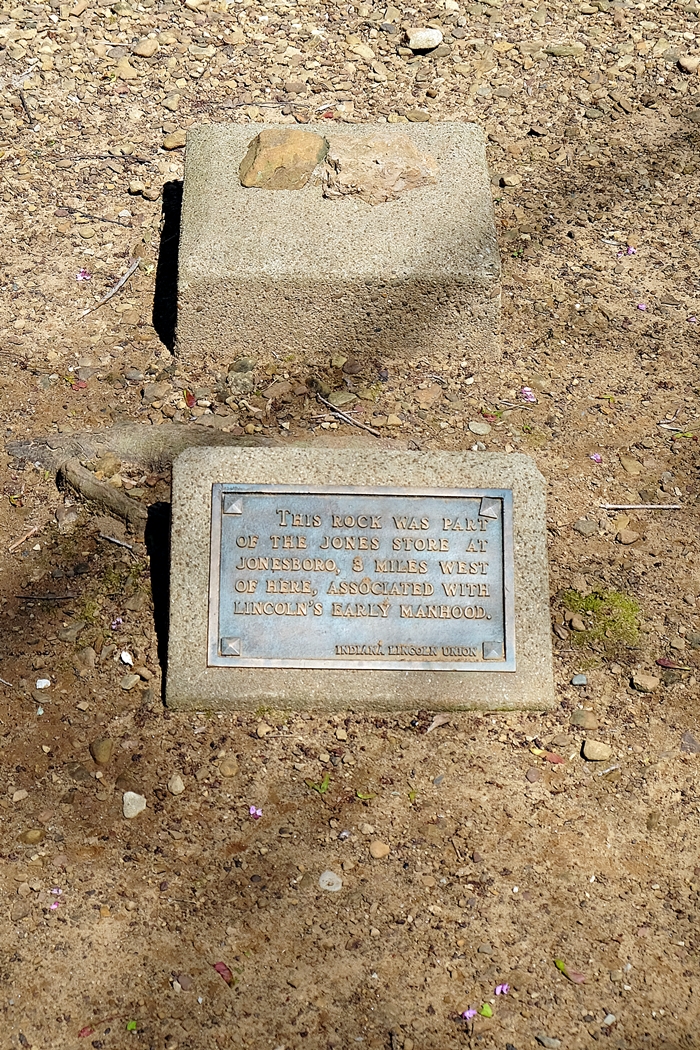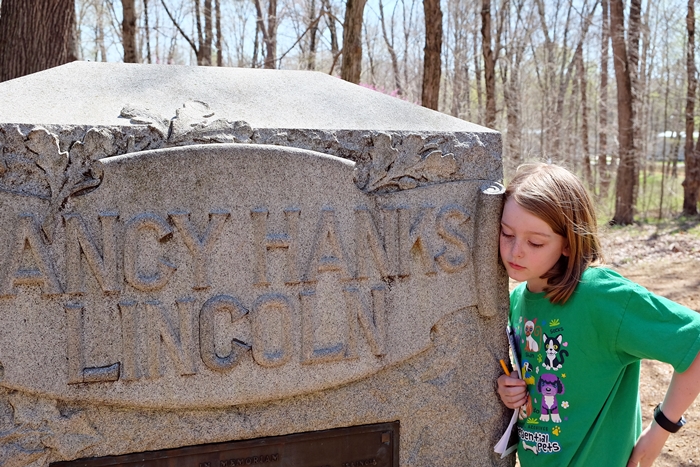 Oh, look: Gus was appropriately dressed, too! He's wearing his presidential pets shirt. It doesn't have Abe Lincoln's dog, Fido, on it, though, because he didn't get to go to the White House.
Then we went back to the visitor center to turn in Junior Ranger books. Abe got his second badge only a day after his first.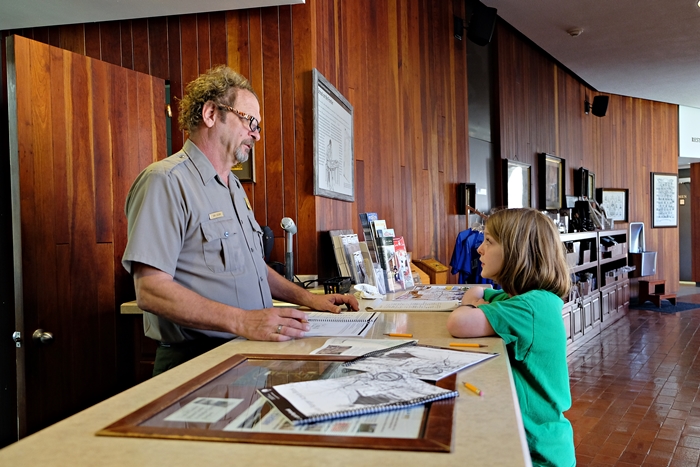 We ended up spending about three hours here, which was more than we expected or planned. But we all enjoyed it and it was definitely a nice way to break up the long drive. Kind of minor site as far as NPS sites go, I guess, but nicely done. And about Abraham Lincoln, which makes it awesome.