We had big plans to stay at the campground at Mammoth Cave and give dry camping a try for the first time. Then we kind of panicked, mostly about the possibility of it being very cold, and booked the Jellystone down the street instead. It turned out to be very cold indeed–below freezing one night–so I think we made the right choice. We drove by the park's campground several times, and it looked nice–super close to the visitor center; we would have loved to be able to walk right over….another time!
So instead we ended up in pretty much the exact opposite sort of campground: our first Jellystone. Things got off to an inauspicious start when we got a call from the campground early in the day. "Are you…on your way?" the woman on the phone asked tentatively. This made me very nervous, but it turned out the only issue was that there was a problem with our reserved full hook up site and they'd need to put us in a water/electric site instead. This wasn't ideal, but it was just a two night stay so not that big of a deal. And they gave us 25% off the cost of the W/E site to make it up to us, so I was pleased with how it was handled.
The kids were a little overwhelmed when we pulled in. They're used to relatively quiet and small public campgrounds. The Jellystone was huge and bustling with people all the time. But everyone was nice, everything was well kept and clean, and things quieted down at night, so the kids grudgingly came to accept this new kind of campground.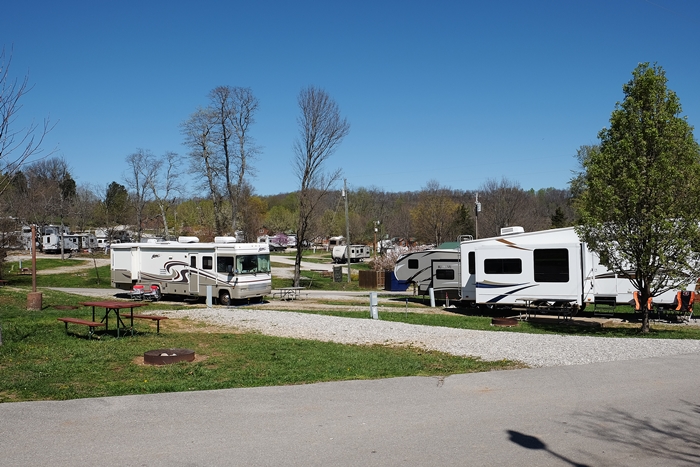 They have all different kinds of sites here. There are back-ins and pull-throughs, a tent area, and several different kinds of cabins sprinkled throughout the campground. I notice on their website that they say the water and electric sites are limited to campers up to 25 feet, but our trailer is just under 33 feet and we fit, although we did need to park the van next to the trailer. The site was plenty wide for that, though.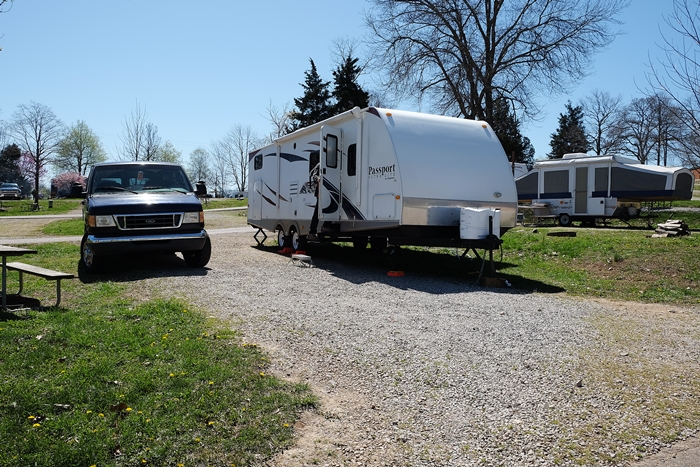 This picture makes our site look more sloped that it really was, I think, but the campground is in a hilly area and it took some work to get the trailer level. Reading reviews online, I think unlevel sites was the most common complaint I saw, so you might want to call to book and mention on the phone that you'd like one of the more level sites if that's important to you.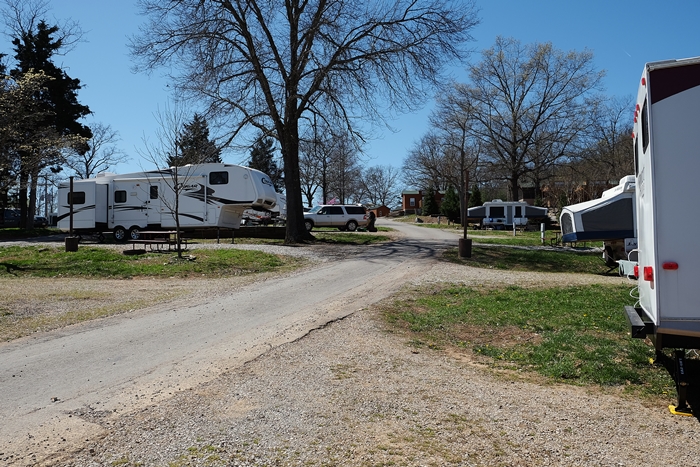 As you can see, there's decent separation between the sites; we had neighbors on both sides and didn't feel cramped.
We were really close to one of the bathhouses, which was nice and modern and was kept clean the whole weekend even though the campground was very full and busy.
There are tons and tons and tons of activities and amenities here; I was worried that we wouldn't have time for any of them, but we ended up squeezing in quite a few. There are two pools, and one of them is heated and was actually open while we were there. There's a really fun looking waterslide built into the side of hill (that wasn't open yet). Mini-golf, a game room, a nice playground: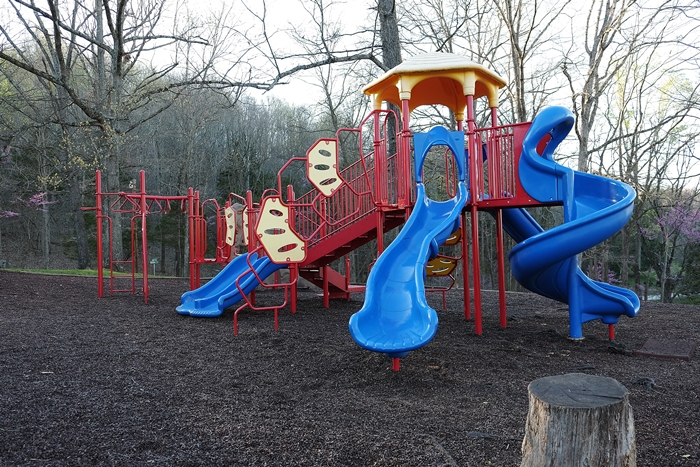 The camp store was well-stocked and included a little restaurant area that sells things like pizza and wings.
We took Abe (Gus came along, too) on a "Hey, hey, hey ride" with Boo Boo: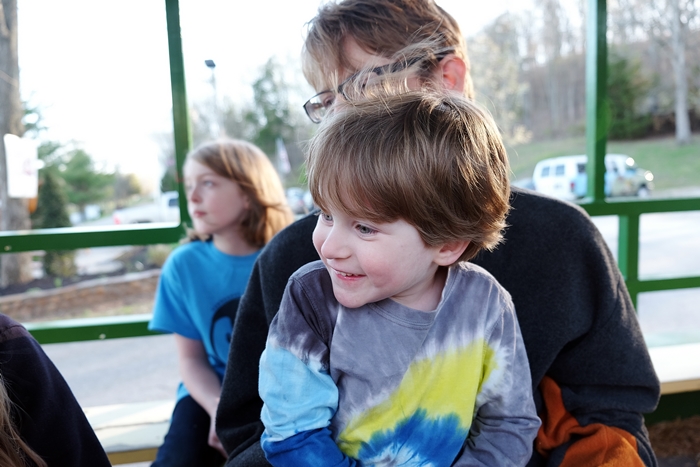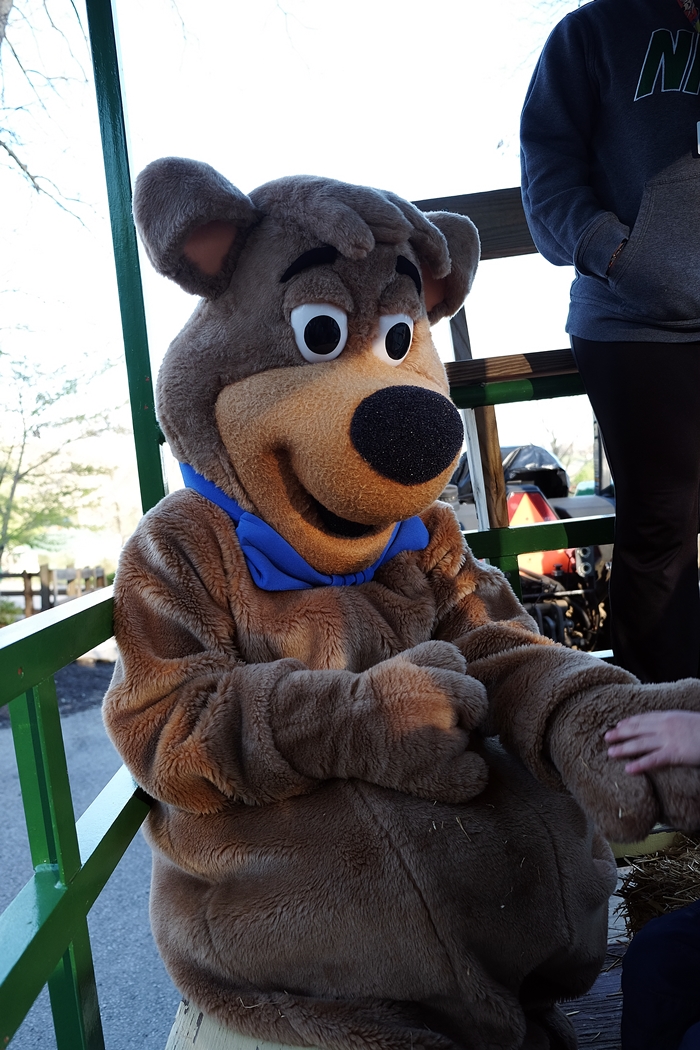 We went around the campground while being forced to sing terrible songs that are still stuck in our heads ;). Really, it wasn't THAT bad, but I could have done without the singing, personally, because I'm cynical and grumpy like that.
Then Dave took the older kids to do mini-golf (no extra charge for any of this) while I got Abe to bed. Then they all went to the pavilion for the coloring contest. No one won any prizes, which was terribly disappointing of course. There was also a movie being shown, but the kids decided to pass on that.
Sites start at around $42/night for a water/electric in the shoulder seasons–a few dollars more for full hookups. I just checked, and it looks like sites start at $56 in summer. These seem like really reasonable prices given all the amenities included.
As far as location, proximity to Mammoth Cave National Park is really why you want to stay here. It's only about a ten minute drive (on the same road) to the park entrance (maybe 15 to the visitor center). You're about 40 minutes from Bowling Green and about an hour and a half from Nashville or Louisville, KY, so those might be reachable for a day trip, but you're mostly going to be here to see the cave.
All in all, we had a great stay; if I had it to do over again, I'd try to stay at least three nights so that we had more time to hang out at the campground.