We actually had a trip to Asheville, NC all booked for spring break. Campground booked, list of places we wanted to see all planned out. We've passed through Asheville and stopped there briefly before, but never spent any significant time there.
Then I started to get a little nervous about planning a trip that involved lots of mountain driving and hanging out outside in high elevations for the very beginning of April. There was even a possibility some of the Blue Ridge Parkway could be closed because of snow (I just checked, out of curiosity, and a portion of the parkway that we were planning to visit is, in fact, closed because of tunnel repair work).
So we changed course and headed to lower ground instead. In the end, we didn't escape the cold, but we did at least hit some less outdoor intensive destinations, so that the cold wasn't as much of a problem as it might have been.
The Mammoth Cave part of the plan came first, but we didn't think we could really fill a whole week with just Mammoth Cave, so we added St. Louis to the itinerary. I don't really remember why anymore, since it's over 300 miles from Mammoth Cave, so not necessarily the obvious choice, except that we'd never been and it sounded cool.
This was by far our longest trip both in time and distance and also our first trip with multiple stops, and I'll talk more about that whole experience (which was, at times, more….exciting than we would have liked) in another post. Today I'm just going to talk about the Mammoth Cave part of our trip (we stayed at the Jellystone down the road from the park, and I'll also save that for a separate post).
Our Mammoth Cave story begins about a week before our trip, when I sat down to buy tickets for one of the cave tours. Mammoth Cave is the longest known cave in the world; so far over 400 miles of passageways have been discovered. There is one self-guided tour of a small section that you don't have to buy tickets for in advance, but aside from that you can't just wander on your own: you need a ticket for one of the ranger led tours.
Maybe you already see where this is going. We knew we wanted to go on the Frozen Niagara tour, as that was the one recommended for people with small children. Sunday was our only full day at Mammoth Cave; there were several Frozen Niagara tours offered that day. Most of them were sold out completely. Two of them had exactly one ticket left. Oh dear. I had had no idea tours sold out so far in advance, even so early in the season. Honestly, I'd assumed we'd be totally fine buying tickets the day we got there, but decided to get them in advance to be extra careful.
After a few minutes of panic, we figured out a solution. There were still plenty of tickets available for the Domes and Dripstones tours. We briefly contemplated taking Abe on this one, but it's a good bit longer than the Frozen Niagara tour and includes 500 steps. So instead we grabbed that one last ticket for an afternoon Frozen Niagara tour (kids 5 and under don't need a ticket) so that I could take Abe on that one while Dave and the older kids did a Domes and Dripstones tour that left at close to the same time.
By the time we got to the park the day of our visit, all the Domes and Dripstones tickets were sold out, too. So my number one piece of advice for Mammoth Cave is to buy tickets well in advance….as soon as you have your dates picked out! We saw more than one family show up without tickets and realize they wouldn't be able to do a cave tour.
Our tours weren't until 2 and 2:30, but we wanted to make sure we saw as much of the park as possible, so we headed over first thing Sunday morning: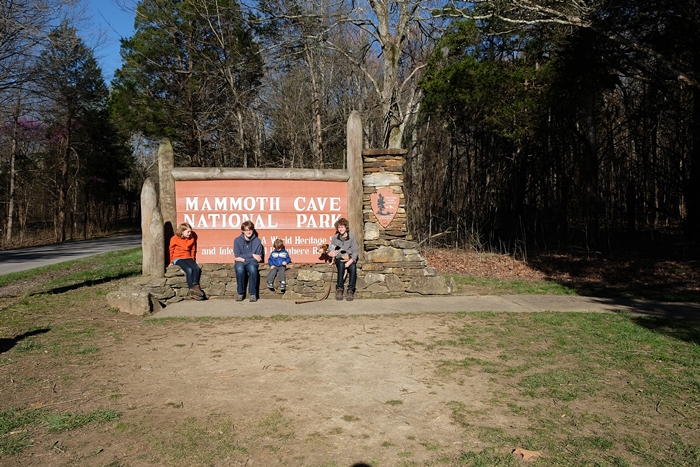 The campground was only about ten minutes from the park, so the plan was we'd bring the dogs with us for a hike in the morning, then go back for lunch and to leave them to nap in the trailer while we came back for our cave tour. We talked to the ranger in the visitor center and followed her recommendation to walk a loop that included the Green River Bluffs Trail overlooking the Green River, then circled back around by the historic cave entrance; it was about 3 miles altogether, with some steep hills to climb towards the end.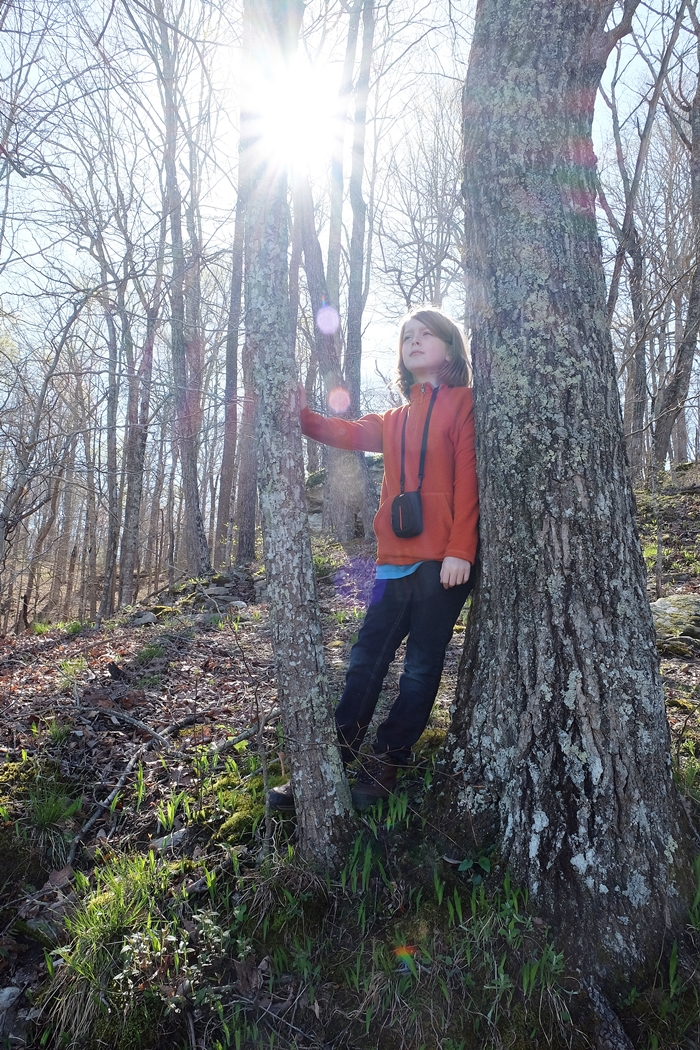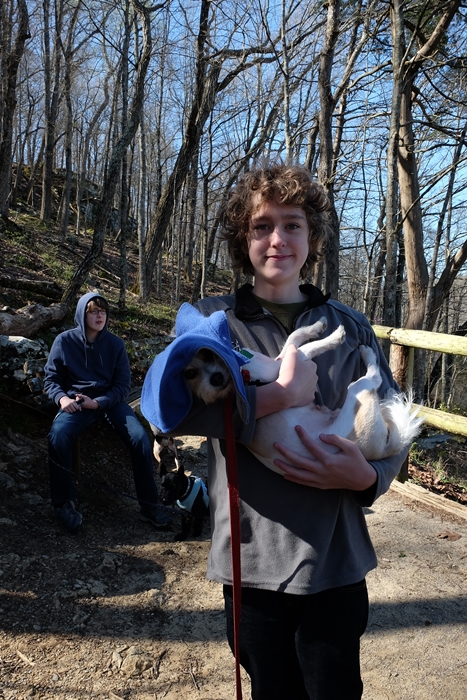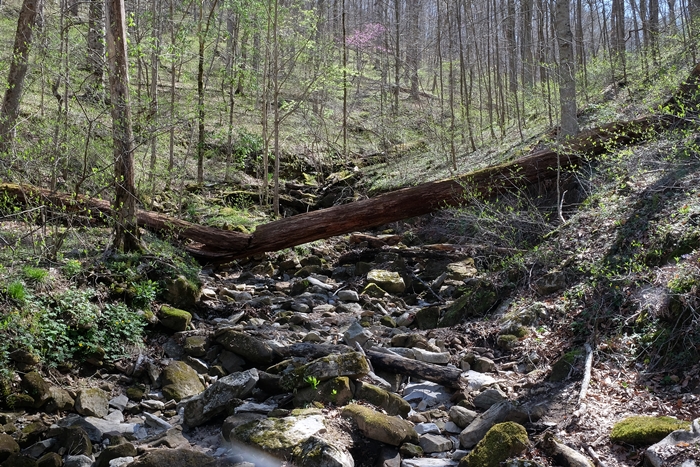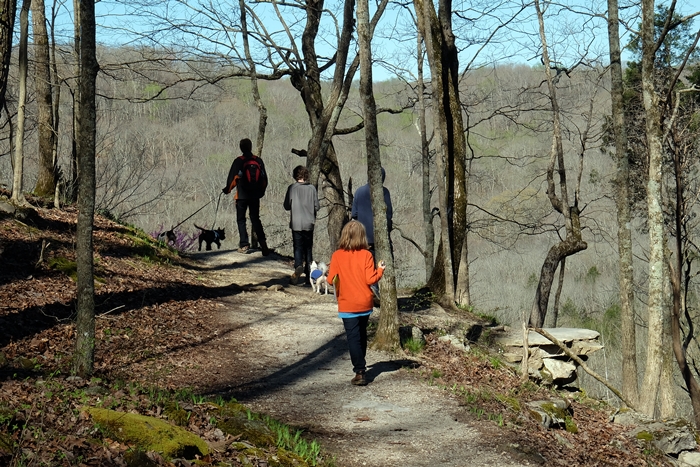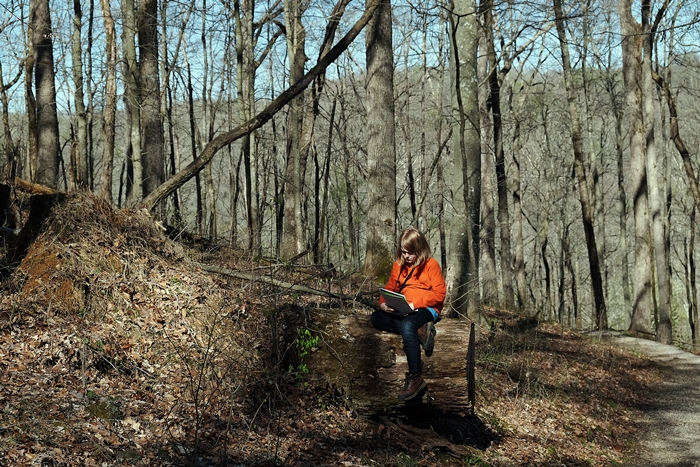 In the afternoon, we came back without dogs and spent some time checking out the visitors' center. There's a nice museum in there with exhibits on the geological and cultural history of the cave: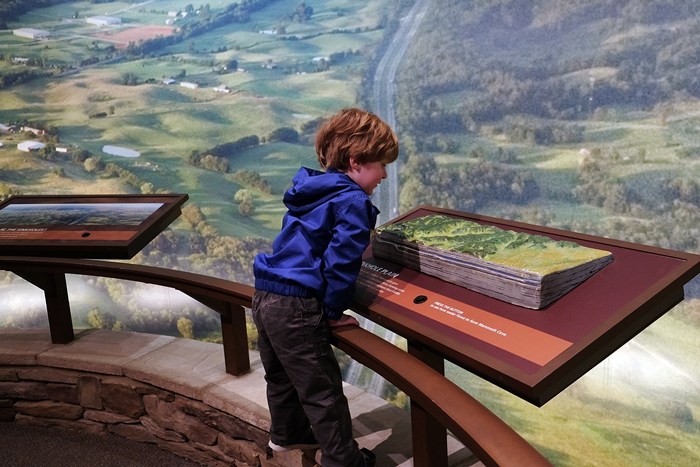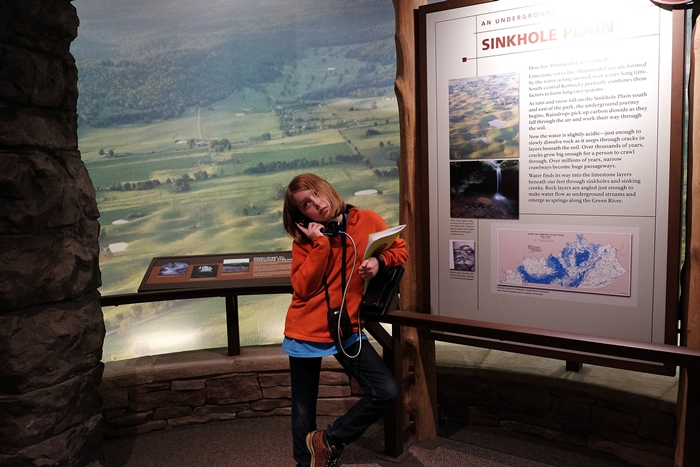 The kids finished up their Junior Ranger books: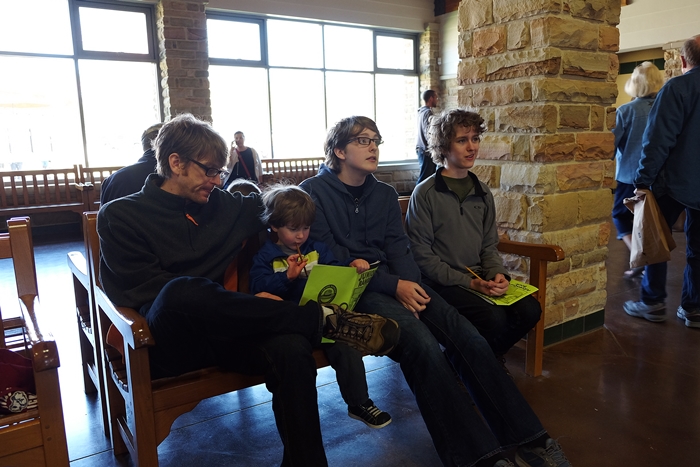 And then they turned them in and Abe got his very first Junior Ranger badge: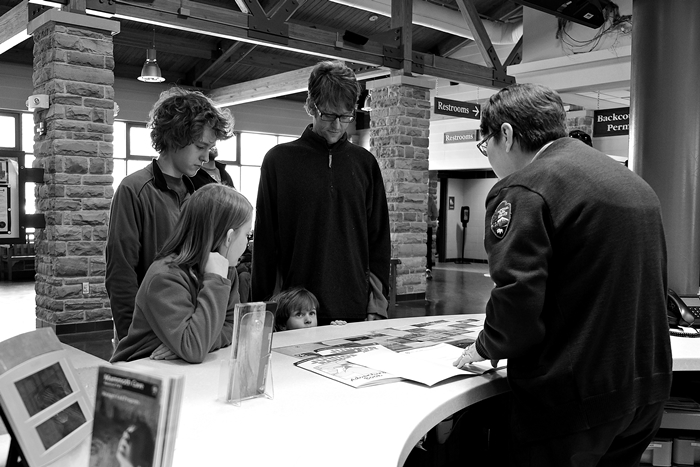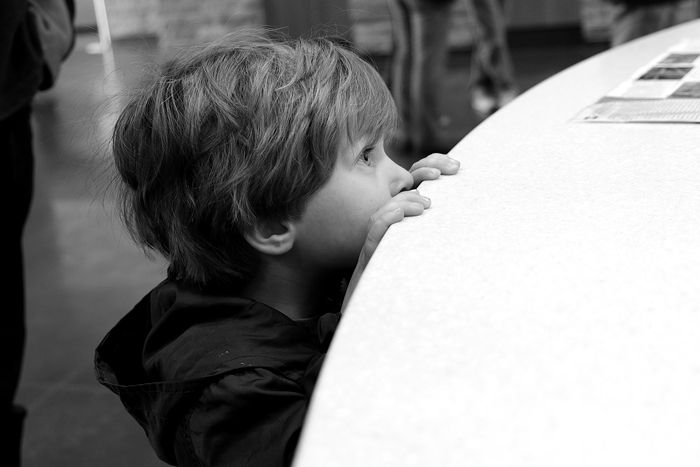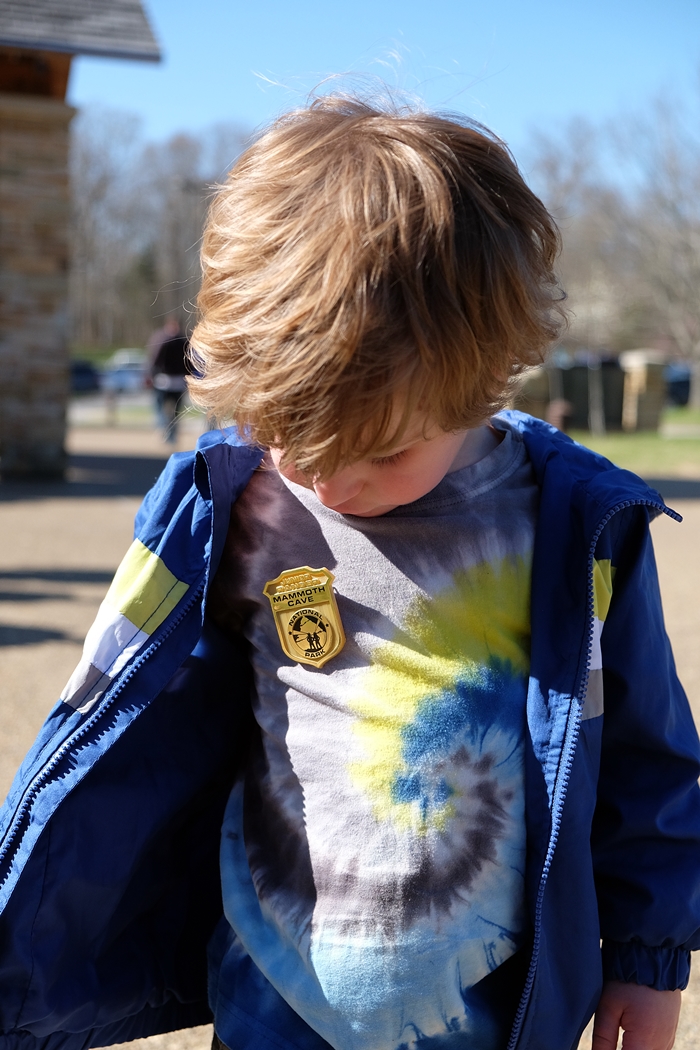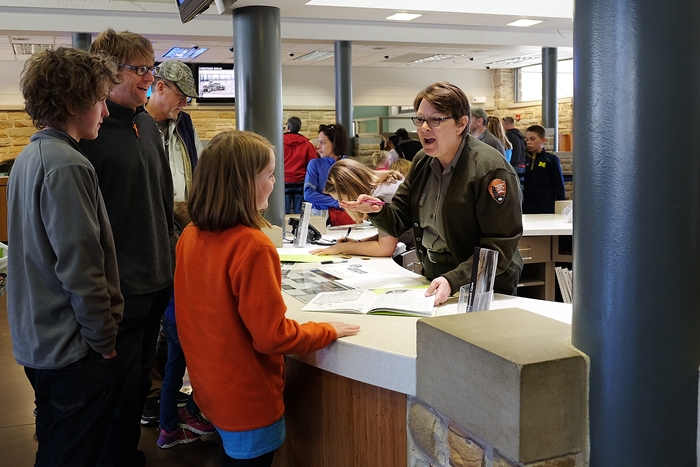 And then it was time to see Dave and the big kids off on their cave tour!
And a little later it was my turn with Abe. The most exciting thing about a cave tour, if you're three, is the green bus you ride to get to it: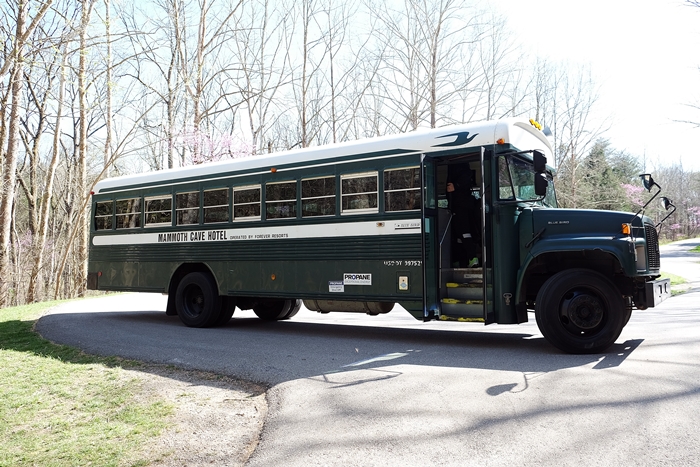 I was very nervous about how Abe was going to do on the tour, and we got off to a bad start when he fell down getting off the bus and started sobbing. Fortunately, he recovered before it was time to go into the cave, and he did great.
The Frozen Niagara tour is designed to give you a brief introduction to the cave and is the tour recommended for people with small kids or people who can't walk long distances. It's only a quarter of a mile round trip, and you spend maybe 45 minutes in the cave. It's also the tour recommended for scaredy cats who get nervous that TODAY will be the day the cave collapses after millions of years or who just don't do so well in enclosed spaces. That might be me. That might be why I wasn't TOO broken up about having to do the shorter tour with Abe while everyone else went on the Domes and Dripstones tour.
At any rate, it was the perfect length for Abe. He was interested and engaged during the tour, but I could tell his patience was wearing a bit thin by the end.
Frozen Niagara is a tour of one of the few wet parts of the cave, so it's the one to take if you want to see stalagmites and stalactites and all those other fancy formations.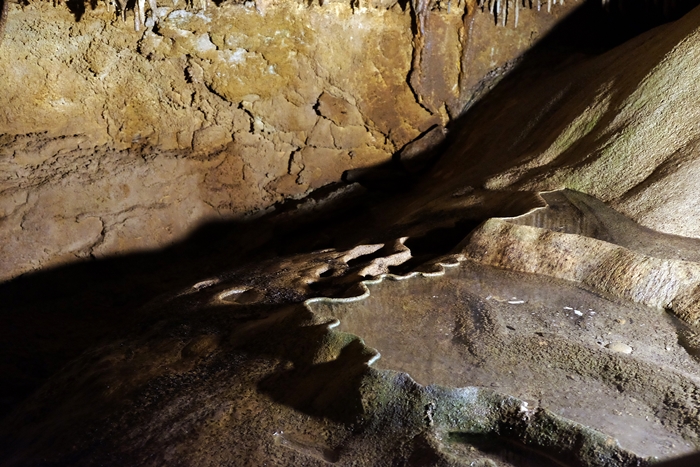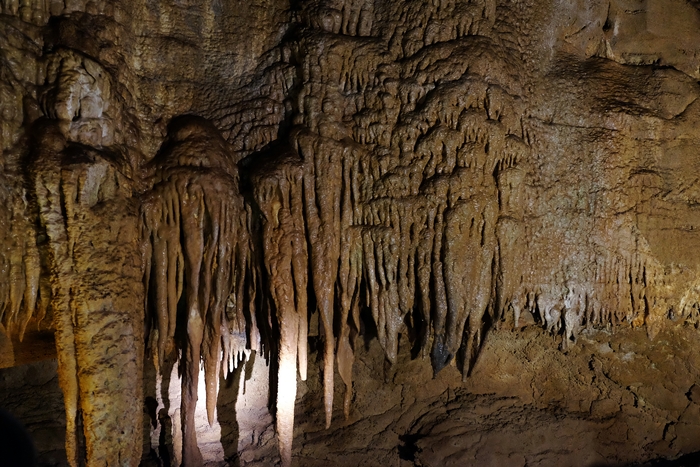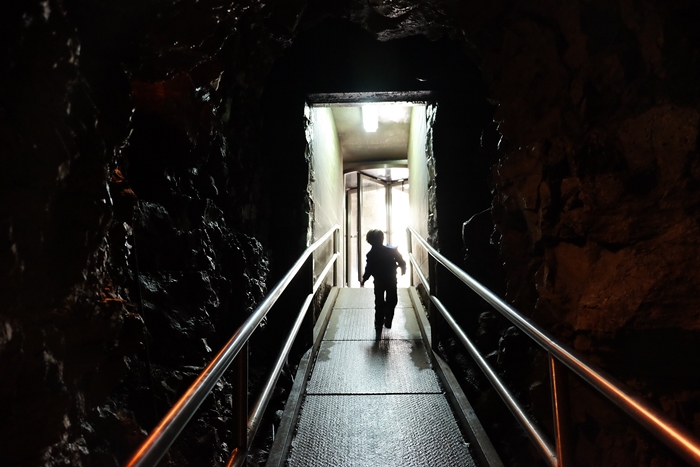 Dave and the big kids spoke very highly of the Domes and Dripstones tour, too. It actually includes all the same area as the Frozen Niagara tour, but starts at a different entrance and includes lots and lots of steps to get down into the cave plus some big open areas of the cave. There are also a lot more people on the Domes and Dripstones tour. Ours was a group of around 40 people plus one ranger who explained things to us as we went. Domes and Dripstones was nearly 100 people and they were left to follow the path on their own most of the time with a couple of stops where they all gathered and rangers talked about the cave.
My understanding is that the Historic Tour (which wasn't being offered while we were there) would be a good complement to either of the tours we did and let you see a completely different part of the cave.
There's no entrance fee for the park, but the cave tours run from around $10-15 per person, depending on which one you choose. We felt like that was reasonable for what you get, and much cheaper than commercial cave tours we've done in the past.
Before we got here, I felt a little overwhelmed that we only had a day to spend at Mammoth Cave, but it was really plenty. We could have filled up more time in the area if we'd wanted to (there are other, commercial cave tours nearby, and the NPS Lincoln's birthplace site is less than an hour away, for example), but for the park itself a day was enough. You can easily tour the museum plus do either a hike and a tour like we did or forego the hike and do two cave tours in a day. It was a full and really fun day for all of us, though: thumbs up for Mammoth Cave!